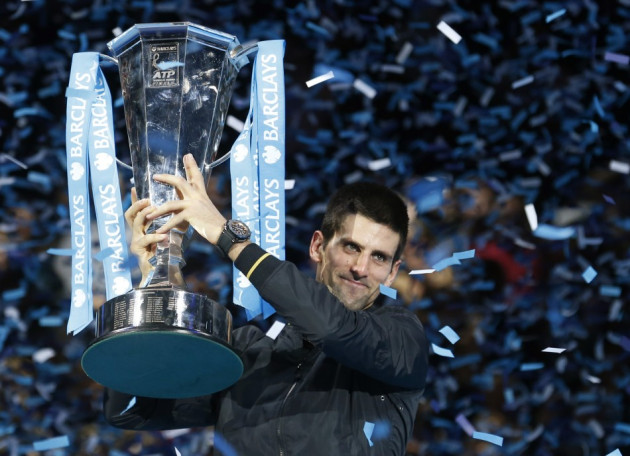 World No.1 Rafael Nadal faces Spanish compatriot David Ferrer before defending champions Novak Djokovic takes on Roger Federer
Where to Watch
Rafael Nadal v David Ferrer is live on Sky Sports HD3 and BBC Two HD no later than 2pm GMT. Live commentary is available on BBC Radio 5 live sports extra.
Novak Djokovic v Roger Federer is live on Sky Sports HD3 no later than 8pm GMT.
Preview
Day two at the ATP World Tour Finals sees the big guns start their campaign in London. First up is world No.1 and French and US Open champion Rafael Nadal up against David Ferrer before defending champion Novak Djokovic squares up against a rejuvenated Roger Federer in a repeat of last year's final.
Nadal requires two round robin victorious to be guaranteed to finish as world No.1 in 2013 after a year in which tennis' primary narrative surrounded his return from knee surgery. The Spaniard has never won the season ending championship and will be keen to end perhaps his finest year in winning mood.
The 27 year old suffered his first defeat to Ferrer since the Australian Open in 2011 after nine back-to-back wins to give the world No.4 a glimmer of hope at the O2 Arena. Having reached his maiden grand slam final at Roland Garros earlier this year, Ferrer is enjoying a swansong but faces a daunting challenge to reach the semi-final.
The other round-robin match is a repeat of the 2012 final, with Djokovic, unbeaten since the US Open, taking on Federer, whose run to the Paris Masters last four suggest he can mount a challenge for a seventh world tour finals win in his 12th appearance.
After a year without winning a what has become customary grand slam title, Federer required victory over Kevin Anderson in the French capital to take his place in the world's top eight.
A mini-resurgence, which included taking a set off Djokovic before the Serbian powered through in the Paris semi-final, has raised hopes he may end 2013 with a bang but he faces the in-form player in world tennis.
Djokovic must be the unbeaten champion at these tour finals and at the Davis Cup against Czech Republic to stand any chance to usurping Nadal as the world No.1, a task that may even be beyond the defending champion.
What they said
Rafael Nadal: "The Tour Finals have been indoors from 2005 until now, so I am a bit unlucky with this. For me it is more fair to have it outdoors on different surfaces. In this tournament we qualify by playing on all surfaces, but the Tour Finals are always on hard courts."
David Ferrer: "I am tired because I played a lot of matches in the last three weeks, but I have confidence in my game. I've played very well and was in the final last week [in Paris]. I have only one day to rest and tomorrow I hope to play a good match against Rafael [Nadal]."

Roger Federer: "I'm maybe still a little bit unsure about how high is my level of play. You wonder if things are going to be how they used to be just going out there and playing tennis. You do so much work to be able to be in decent shape and then still you're not feeling great. It becomes quite frustrating and a little disappointing. But I always see the glass half full, I'm a very positive thinker."
Novak Djokovic: "He's Roger Federer and he's achieved so much in his career. He's never to be underestimated as long as he plays tennis. "He has an incredible quality in his game even though he is moving slower than he used to. He's striking the ball really well and if he feels well that day he can beat anybody."
Day 1 review: Wawrinka and Del Potro clinch opening wins