A comfy chair in the private box of a football stadium is already one of the best and most exclusive seats in the house. But at CES 2017 Panasonic is showing how the experience can be made even more engaging with the use of Pokemon Go-style augmented reality.
By covering the glass windows looking out over the stadium with a special film, the company has shown off how it can project graphics, statistics, replays and live video into fans' field of view.
The projections are solid enough to be seen clearly but transparent enough to not obscure the game. During a demonstration on the CES show floor, we were shown how team selections, player stats, live video feeds and replays of key moments like goals and fouls can all be projected onto the glass. Panasonic uses short-throw projectors, which can be placed just below the window and still project in image across it evenly and without distortion.
Elsewhere in the stadium of the near-future, Panasonic explains how this smart projection film can be placed on many other surfaces. Banners suspended in the air, for example, or advertisements attached to corridors within the stadium can all be brought to life with content projected onto them. The content can be on a pre-defined loop, or adjust depending on the status of the match being played.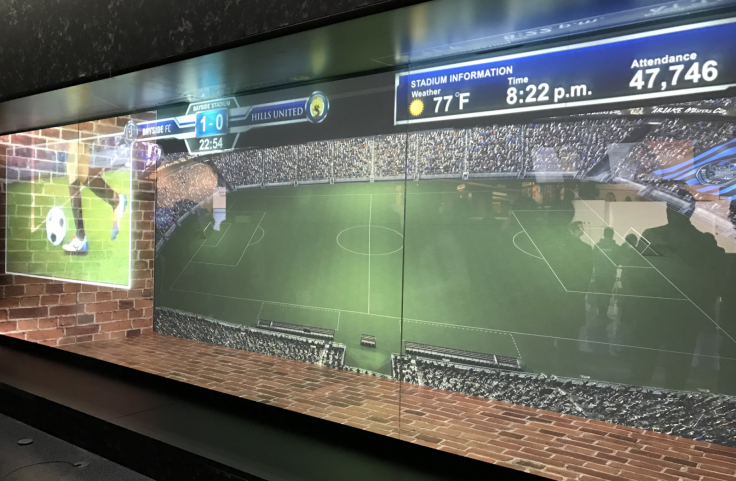 Panasonic suggests how, when a team scores, the goal could be projected onto all display surfaces throughout the stadium. Fans could then be invited to interact with a display surface with their smartphone to grab a limited-time coupon, perhaps giving them money off a drink at half-time, or vouchers to be spent on merchandise after the game.
Finally, a floating 'ballooncam' flies through the stadium. A 360-degree camera is suspended below, which streams live video to projectors beaming it onto the outside of the balloon.