Mercedes has used the CES technology show in Las Vegas to release a second teaser image of its highly-anticipated AMG hypercar. The vehicle, which will have 1,000 horsepower and is powered by a Formula One engine, is to be revealed in full at the Frankfurt motor show in September.
The car, which is expected to cost over £2m and be limited to between 200 and 300 units, is being made to celebrate the 50th anniversary of AMG, the Mercedes-owned performance car company. Mercedes has said repeatedly that the car will be powered by the same engine as the 2016 World Championship-winning Formula One car of Nico Rosberg and Lewis Hamilton, yet it will be road legal.
Shown at CES and photographed by GTSpirit, the latest image shows the rear of the car. Broad shoulders give way to an engine cover with many air intakes and what appears to be a large, central intake, similar to what sits above the head of a Formula One driver.
The lack of a rear wing suggests the car will employ extreme and sophisticated aerodynamics beneath its body, such as a flat floor, large diffuser and complex Venturi tunnels to suck the car to the road. Corroborating with the first teased image, the car features a vertical fin extending backwards from its roof and towards the rear of the car. Employed by Le Mans racers to stop an out-of-control car from becoming airborne, they help with high-speed stability.
The image was joined by the caption "creating benchmark driving pleasure", suggesting the car will be more about comfort and enjoyable driving rather than a hardcore focus on speed. McLaren is taking a similar approach with a multi-million pound hypercar of its own, featuring three seats, that is also in secretive development.
Mercedes says the only differences made to the 1.6-litre, V6 hybrid Formula One engine will be a lower compression ratio and a lower idle speed, as idling at 3,000rpm isn't especially traffic-friendly. The engine will keep its 10,000rpm limiter, however, and produce an F1-matching 1,000 horsepower via internal combustion and a hybrid electric motor. But unlike its track-going sister it will be connected to a four-wheel-drive system.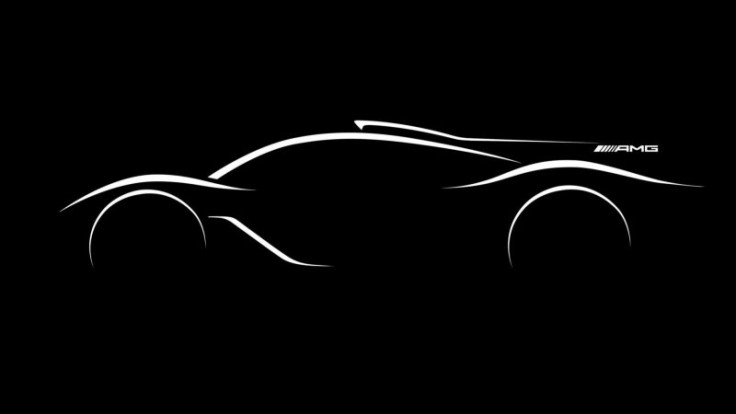 Reliability is a key concern, given an F1 engine's need to travel much shorter distances than a road car between services (or blowing up). But AMG boss Tobis Moers says this isn't as big a deal as speculators may think, boasting about the engine being "the most efficient combustion engine on the planet."
When the as-yet unnamed AMG hypercar finally goes on sale, it will enter a crowded market featuring the Bugatti Chiron, a £3m collaboration between Aston Martin and Red Bull claimed to be as fast around Silverstone as an F1 car, and a three-seater car created by McLaren.