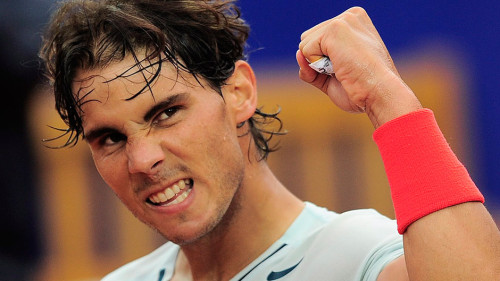 Rafael Nadal progressed to the quarter-final of the Australian Open after overcoming punishment for time wasting and blister problems.
The No. 1 seed was made to work hard to pull off a 7-6 (7-3) 7-5 7-6 (7-3) victory over Japan's Kei Nishikori.
Nadal did not have an easy ride into the quarters after being punished by chair umpire Eva Asderaki for flouting the 20-second rule put in place to prevent time wasting between points.
While the 27-year-old did not dispute the ruling itself, he did criticise the way in which Asderaki handled the situation.
He said: "I don't want to change the rule. I accept that sometimes I was slow. I respect that," he said. "The negative thing in my opinion is not the warning, but the timing of it. You can choose another moment to do it, not that one.
"She didn't advise me before the second warning that I was still going slow. It's a normal thing, for the referee to help the player a little bit, and say, 'Rafa, you are going too slow'."
Nadal will next face Bulgaria's Grigor Dimitrov as Azarenka will surely breathe a sigh of relief having seen her major competition, third seed Sharapova, knocked out of the competition just a day after world No.1 Serena Williams succumbed to Ana Ivanovic for her early exit.
Defending champion Victoria Azarenka in into the last eight of the women's draw while third-seed Maria Sharapova fell to a shock defeat at the hands of Dominika Cibulkova of Slovakia.
Azarenka cruised through to the quarter finals with ease, beating American Sloane Stephens 6-3 6-2 as previous tensions stemming from the Belarusian's controversial medical timeout in their previous meeting threatened again.
Stephens tried to apologise after a shot connected with Azarenka at the net but the two-time major winner walked away without acknowledgement, seconds later firing a shot which narrowly missed the American.
When asked about the incident post-match Azarenka said: "I thought she was going to move and she didn't. I don't know what was happening, but didn't think that would ever happen."
She added: "I just love playing here. I love the surroundings - it feels so cosy and it feels like home."
Azarenka's would-be competition Sharapova was knocked out by Cibulkova [3] 3-6 6-4 6-1 after leaving the court for a medical timeout before the final set.
"I have a bit of a strain, the trainer told me, in the hip area," said Sharapova.
"Those aches and pains are expected when you spend a long time on the court. You just have to play through it."
The 24-year-old Cibulkova will now move on to face Simona Halep in her first ever Australian Open quarter-final.
"It feels great, especially because I played well and it was a tough match," she said.
"I went on the court and I was more than 100% sure that I really could beat her, and beat her on the big court, in an important match in a Grand Slam.
"I did it before. She knows me and I knew she knew it was going to be a tough match. I was prepared for it."