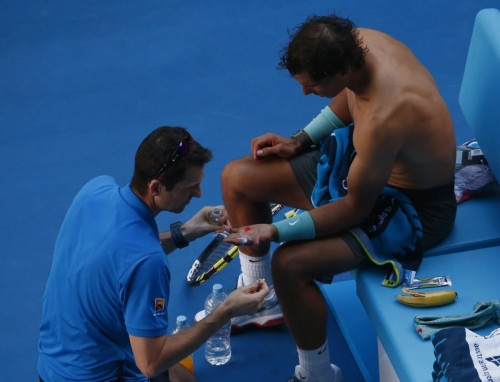 World No.1 Rafael Nadal's preparation for the Australian Open semi final against Roger Federer has been affected as the Spaniard continues to suffer from blisters on his hands.
Nadal and Federer square off for the 33rd time for the right to face Stanislas Wawrinka in Sunday's final in Melbourne.
The 27 year old was forced to tape up his palms and fingers for his four-set quarter final win over Grigor Dimitrov on Wednesday and continues to be hindered by the wounds.
"The wound is ok, the problem is that playing with a bandage, the way he grabs the racket is more complicated... and is also slippery when you sweat. So the issue is more with the bandage, is not that the wound hurts," uncle and coach Toni Nadal told IB3.
"Today he has trained without the bandage because we wanted to see if that could work, and more or less it has, let's see tomorrow".
The 52 year old added: "Against Federer we will use the same tactic that we've always used. It's true that he played very well yesterday, he played very aggressive against Murray. But I think we don't have to change. We will see, if we see that he plays well we will try to do something special".
The Spaniard possesses a superior head-to-head record over Federer in their 32 previous meetings, with Nadal having prevailed in each of the pair's last four meetings including at the ATP World Tour Finals in November.
However, Federer limbers up for the semi-final on Friday having produced his best tennis in over a year to defeat both Jo-Wilfried Tsonga and Andy Murray.
Wawrinka, who booked his maiden grand slam final appearance after beating Tomas Berdych, would relish a meeting with his fellow Swiss.
"It would be amazing [to play Federer in the final]," Wawrinka said.
"Roger is the best player ever. He text me last night. He is happy it is the first time two Swiss guys are in the semi-finals. I told him for you it's normal, for me it's not normal.
"I'm going to watch the match tomorrow with some popcorn. I have two days to enjoy this win and then get ready for my first final.
"I think I play aggressively. It's important against Tomas to take advantage as soon as you can. I was serving well and trying to be aggressive. He's a good player and tough to beat so for myself, I focused on what I was doing.
"It's amazing, I'm so happy to be here and to make my first grand slam final here. I'm working hard every day. I didn't expect to make a final in a grand slam, and tonight it's happening. I'm just really happy."