Australia's first self-driving buses to begin tests in Perth
Fully electric bus will be trialled with public for a year before being considered for wider deployment.
A driverless bus has entered operation in Australia, making it the first autonomous vehicle to hit public roads in the country. Named the RAC Intellibus, the 11-seater vehicle will transport passengers along the 2.7km promenade in South Perth, travelling at speeds of up to 15.5mph.
According to The Australian, the fully-electric shuttle bus has six Light Detection and Ranging (Lidar) sensors, four 3D imaging cameras and a GPS system that allows it to pinpoint exactly where it is, as well as how far it has travelled based on its starting point. The bus itself is a prototype vehicle by French EV manufacturer Navya, which was purchased by the Royal Automobile Club of Western Australia (RAC WA) for AUS $296,000 (£168,000, €200,000).
While the Intellibus can operate without a driver, a human 'chaperone' will ride the bus so that they can take control of the vehicle in an emergency. There are also stop buttons on board that will stop the vehicle immediately.
The Intellibus isn't intended to replace conventional bus routes but has instead been designed to cover the final stretch of a journey. Being the case, the vehicle can't be flagged down in the street or make unscheduled stops, with passengers instead having to book seats though the RAC WA website.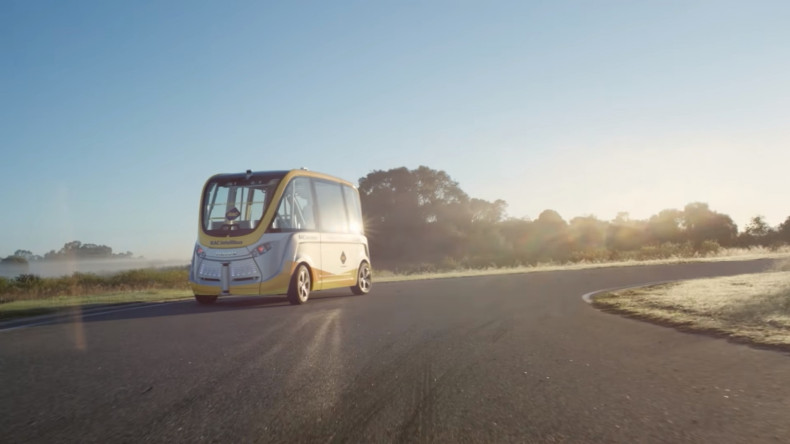 Trials of the bus are scheduled to last for a year, although spokesperson Anne Still told The Australian that the RAC WA would consider extending this.
In Amsterdam, Mercedes-Benz is carrying out a similar but larger-scale trial of a semi-autonomous bus capable of accelerating, steering and braking by itself. The so-called Future Bus is bigger and faster than Perth's driverless EV and designed to carry passengers along the 20km rapid transport link between Schipol airport and the town of Haarlem, at speeds of up to 43mph.
Meanwhile, China is currently redefining the concept of a public transport completely with a so-called "hover bus" that straddles the road to glide over traffic jams.