Toshiba trialling 45-seater electric bus that can be charged wirelessly in 15 minutes
Toshiba has begun field tests of an electric bus in Japan that can be charged in 15 minutes using a new type of contactless charging method for electric vehicles (EVs). The 45-seater bus, which is powered by a high-output lithium-ion battery manufacturer by Toshiba, will be driven between Kawasaki and Tokyo to assess its suitability for regular high-speed journeys on motorways.
The 11km (7 mile) journey between All Nippon Airways facilities in Tonomachi, Kawasaki and Haneda Airport in Tokyo will examine the bus's performance under different traffic conditions and will allow Toshiba to test the convenience and practicality of contactless charging, the company said. The vehicle will make three round trips per day and is powered by the manufacturer's rechargeable lithium–titanate battery, dubbed Super Charge Ion Battery (SCiB), which can offer up to 89km (55 miles) on a single charge.
Toshiba's contactless charger has been designed in collaboration with Waseda University and replaces conventional electromagnetic induction with a magnetic resonance system that is installed in the ground beneath the vehicle. The charging starts once the driver pushes a button on the bus dashboard and because the system is cable-free, it eliminates the risk of electric shock.
Google is testing similar technology in the United States, meanwhile the UK government is currently trialling a system that wirelessly charges electric cars as they drive.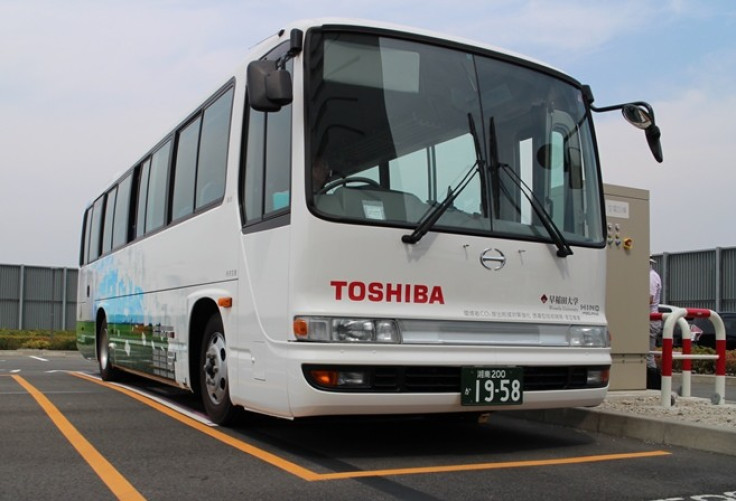 According to Toshiba, the battery housed in its electric bus has been designed to withstand more than 15,000 quick charge and discharge cycles. It also claimed that just 15 minutes of charge gives the vehicle enough power to travel one way between the test sites, making it suitable for shuttle buses that operate in places like tourist spots and airports. At the same time, the high-output nature of Toshiba's SCiB battery allows the bus to reach high enough speeds to make it safe to drive on motorways, the company said.
Toshiba's EV wireless charging and battery system has been in development since 2014 and is supported by Japan's Ministry Of The Environment, as part of its Low Carbon Technology Research And Development Programme. Field tests of the electric bus will take place between 1 June and December 2016.
Professor Kamiya of Waseda University's Faculty Of Science And Engineering said: "I think we have developed a high-quality system by combining the new, convenient contactless charger with a high-power SCiB suited to frequent charging. I look forward to the field testing, as it will be the first time where a bus charged in this way has operated on the expressway.
"I am confident that the results will make a useful contribution to the promotion of EV buses."
© Copyright IBTimes 2023. All rights reserved.