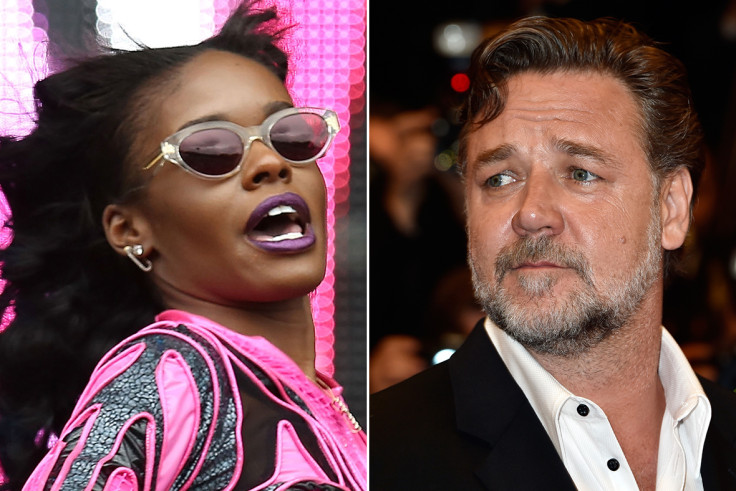 Azealia Banks has levelled more explosive allegations against Russell Crowe, saying the Hollywood actor turned nasty after she rejected his advances. The 25-year-old gave her detailed version of events in an interview with the Sun newspaper, claiming her "femininity feels stained".
The 212 rapper − who filed a battery report against the Oscar-winning actor after alleging that he "choked and spat" on her before using a racial slur at a dinner party in his hotel room − alleged that the pair had spent part of the evening flirting before things turned sour.
"Russell and I get next to each other," she said. "He's talking to me, I'm talking to him, and we start flirting. We're having a really good time. He's got his knee on my knee, he's touching my leg, I'm playing him my music, he tweets my song The Big Big Beat.
She added: "He's like, 'I love this, you're ­beautiful, this is great."
Banks was a guest in Crowe's hotel suite thanks to RZA, with whom she recently signed a record deal. The 47-year-old Wu Tang Clan member had previously worked with Crowe on American gangster and The Man With The Iron Fist.
"I think he's a racist, misogynist pig," she said of Crowe. "This is a stain on me. My ­femininity feels stained. I feel stained as a woman, I feel mishandled, I feel mistreated, I feel dirty. I feel very f***ing low."
Banks also suggested that a cocktail of drugs and alcohol may have contributed to Crowe's aggressive behaviour. "Russell had moonshine on the table, and then Russell calls for whisky, so then they just start mixing them up," she said. "You know, moonshine, whisky, vodka, and smoking cigarettes and smoking weed.
However, her account of what occurred at the Beverly Hotel on 15 October differs greatly to that of other guests at the event. Eyewitnesses claim that Banks was rude and disrespectful and had threatened guests in a Tarantino-style bottle attack.
Insiders told TMZ Crowe simply "bear-hugged" her out of the room before calling security guards to remove her from the hotel, and didn't believe his actions were out of line.
Comedian Jim Jefferies, who was amongst the guest at the intimate bash, has since come out in Crowe's defence, vowing to take a lie detector test if needed. He told his 279k Twitter followers: "I was there, she was out of control. Russell did absolutely nothing wrong. Azealia Banks is a complete liar. I was in the room. Russell Crowe is completely innocent. I would take a lie detector (sic)."
While Crowe has yet to issue a statement on the supposed incident, he made a point of sharing a TMZ's story which claimed that Banks called him and other guests "boring white men".