A baby girl has become the first paediatric patient in the world to receive an innovative targeted therapy to treat a rare type of child cancer. She is now in remission, after this approach showed promising results, which are detailed in a study published in Pediatric Blood and Cancer.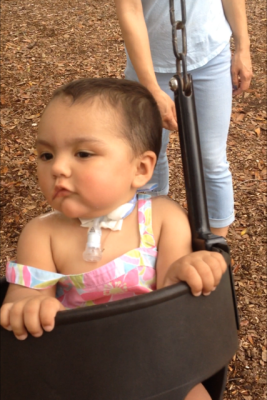 Carina, who is now 20 months old, had been suffering from infantile fibrosarcoma, a malignant tumour affecting about five children in a million, according to her doctor at Nemours Children's Hospital, in Florida.
Otherwise healthy, Carina had been born with a mass on the right side of her neck, which extended to the rest of face. When at six months of age, it started growing rapidly, she was diagnosed with the rare cancer. Unfortunately, her response to common treatments proved to be ineffective.
"Usually, this cancer is highly curable with surgery, with or without chemotherapy. When a tumour is located in a part of the body that is difficult to resect, chemotherapy can be used first, to shrink the tumour," Ramamoorthy Nagasubramanian, division chief of pediatric hematology-oncology at Nemours Children's Hospital, told IBTimes UK.
"In her case the tumour was so large we could not operate at first, and three different regimens of chemotherapy proved ineffective. When the disease progressed in spite of all these treatments, we had to research new options that could target the tumour."
Targeting the 'gene fusion'
The oncology team wanted to try a new targeted drug called LOXO-101, which was being tested on adults at the time. This drug targets a genetic alteration specific to this tumour.
Infantile fibrosarcoma, is characterized by fusion of two genes – ETV6 on chromosome 12 and NTRK3 on chromosome 15, a genetic translocation leading to the production of the TRK fusion protein, which gives a proliferative advantage to the tumour. The innovative drug LOXO-101 was designed to work as an inhibitor of TRK, in order to stop the tumour's growth.
"We are not able to explain why the baby didn't respond to chemotherapy. But thanks to this experimental drug, we have unlocked the tumour's secret by using its weak point. The tumour grows because of this specific genetic alteration, and the drug targets this alteration," explained Nagasubramanian.
90% size reduction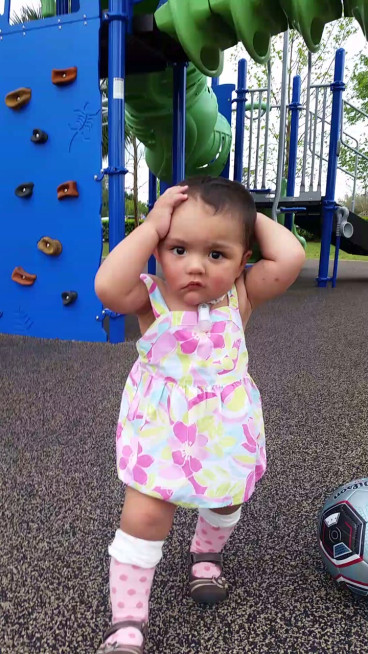 Very few targeted therapeutic options now exist for children, due to lack of research. To find a solution to the fact Carina didn't respond to standard treatments, the team looked at the results of the LOXO-101 adult clinical trial, which were promising.
They requested the opening of a phase one clinical trial to test LOXO-101 on children.The adult trial was eventually expanded to children in December 2015, with Carina as its first participant.
After the first cycle of treatment with the drug, which lasted 28 days, a huge improvement was observed: the baby's tumour size shrunk by 90%.
Carina is now undergoing her fifth cycle on the medicine. Five years without the tumour will be necessary before pronouncing her cured, but her doctors express great satisfaction with her current state.
"She has not experienced any adverse effects and her tumour is in remission, which means we cannot find any trace of it in her body", Nagasubramanian pointed out.
He hopes this success and the ongoing clinical trial will eventually change the way rare paediatric cancers are treated, with targeted drugs becoming more available for children, and given to them with or without chemotherapy.