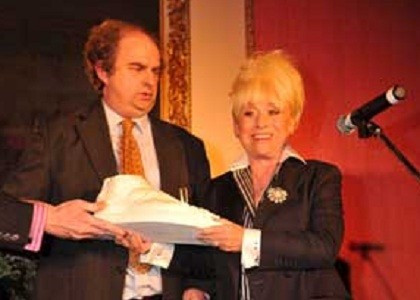 The worst examples of erotic fiction from the last 12 months are being celebrated in London at Bad Sex 2012, the annual award for rubbish sex descriptions.
Literary Review was to announce the winner at the In & Out club in St James's Square, London.
This year, the nation's obsession with mummy porn has skyrocketed.
EL James' 50 Shades of Grey and her protagonist's red room of pain sparked the imagination of women and men across the globe. One woman was reported to have divorced her husband because he would not partake in her 50 Shades fantasies.
A statement from the Literary Review said: "The purpose of the prize is to draw attention to the crude, badly written, often perfunctory use of redundant passages of sexual description in the modern novel, and to discourage it."
It also notes that the prize is not intended to cover porn or "expressly erotic literature".
JK Rowling's The Casual Vacancy was nominated for the award this year but the judging panel decided "the book's sins were venial compared with the competition".
Bad Sex 2012 shortlist:
Nichola Barker: The Yips (HarperCollins)
The Yips is set in Luton and the title refers to a motor neuron disease that ruins many sporting careers. The book centres on golfer Stuart Ransom, described as "repugnantly charismatic". His story is interwoven with a host of other characters.
"He was just idly pondering the wonky pathway of spotless scalp which lies - like a seductive trickle of tropical white sand - between Jen's scruffy, dark-rooted, peroxide-blonde ponytails, and then, as she spins back around (pinching that errant nut, fastidiously, between her finger and thumb), he ponders the voluptuous outline of her pert, nineteen-year-old breasts beneath her starchy, cream-coloured work blouse (assessing these other - rather more intimate - physical attributes with the keen yet dispassionate eyes of a man who has oft pitted his talents against the merciless dips and mounds of the Old Course at St Andrews)."
Nicholas Coleridge: The Adventuress (Orion)
This novel, by the president of Condé Nast, looks at the British class system and social climber Miss Cathy Fox. Fox comes from humble beginnings "folding knickers" on a Portsmouth housing estate and rises to the height of society.
"In seconds the duke had lowered his trousers and boxers and positioned himself across a leather steamer trunk, emblazoned with the royal arms of Hohenzollern Castle. 'Give me no quarter,' he commanded. 'Lay it on with all your might.'"
Paul Mason: Rare Earth (No Exit Press )
Paul Mason's Rare Earth follows a washed-up TV reporter who comes across a corruption scandal in China. He is persued through the country and discovers "the real China", meeting people-traffickers, prostitutes and TV executives.
"He began thrusting wildly in the general direction of her chrysanthemum but missing, his paunchy frame shuddering with the effort of remaining rigid and upside down. 'The cartel, sells, to the global market,' he panted."
Nancy Huston: Infrared (McArthur & Co)
Infrared follows Rena, a photographer who specialises in infrared techniques. She has been married twice before and travels to Tuscany with her father and his second wife. Rena is incapable of accepting affection and uses sex to form emotional bonds. As the tale progresses, she uses "dark room techniques".
"He runs his tongue and lips over my breasts, the back of my neck, my toes, my stomach, the countless treasures between my legs, oh the sheer ecstasy of lips and tongues on genitals, either simultaneously or in alternation, never will I tire of that silvery fluidity, my sex swimming in joy like a fish in water."
Ben Masters: Noughties (Penguin)
In 24-year-old Masters' debut novel, protagonist Eliot Lamb is about to finish university. He goes out drinking with his friends for "one final, historic night on the lash". However, before the night can conclude, Elliot must sort out his complicated love life.
"We got up from the chair and she led me to her elfin grot, getting amongst the pillows and cool sheets. We trawled each other's bodies for every inch of history. I dug after what I had always imagined and came up with even more. She stroked my outlines in perfect synchrony."
Sam Mills: The Quiddity of Will Self (Corsair)
Central character Richard Smith discovers the body of his neighbour Sylvie, who was having surgery to look more like novelist and journalist Will Self. Richard discovered Sylvie was a member of WSC - a cult that appears to worship Self. As the novel progresses, he gets sucked into this world and loses all perspective on normality.
"Down, down, on to the eschatological bed. Pages chafed me; my blood wept onto them. My cheek nestled against the scratch of paper. My cock was barely a ghost, but I did not suffer panic."
Craig Raine: The Divine Comedy (Atlantic Books)

The narrator in Raine's black comedy tells in "bawdy detail" the story of a case of "philanderers and f**kups" in a "voyeuristic meditation on sex and insecurity". The sexual relationships between the characters form the basis of his aim - to write about sex. The Financial Times called the novel "unbearable lewdness".
"And he came. Like a wubbering springboard. His ejaculate jumped the length of her arm. Eight diminishing gouts. The first too high for her to lick. Right on the shoulder."
Tom Wolfe: Back to Blood (Little, Brown)
Set in Miami, Back to Blood is a look at life in the US. It features porn addicts, a sex addiction psychiatrist, crack dealers, conceptual artists and too much punctuation, critics said.
"Now his big generative jockey was inside her pelvic saddle, riding, riding, riding, and she was eagerly swallowing it swallowing it swallowing it with the saddle's own lips and maw - all this without a word."