BAE - EADS merger would create $45bn aerospace and defence group
Combined group could generate $100bn in annual sales
Deal faces myriad political and commerical challenges
Daimler AG says it may exit 22.5 percent EADS stake if "shareholder pact" is dissolved
French, German, Spanish and British governments to be issued special shares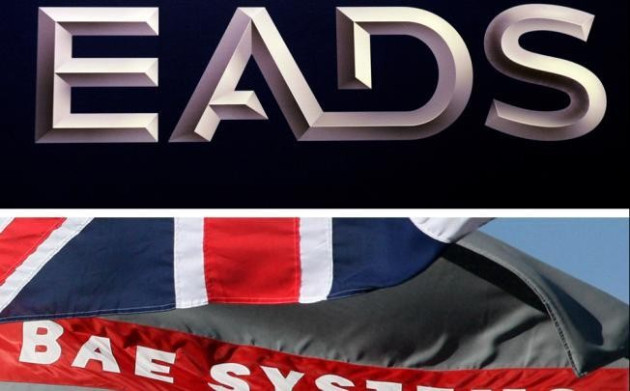 Shares in aerospace and defence groups BAE Systems and EADS fell heavily in early trading Thursday as investors seemed doubtful the planned $45bn billion merger will clear the many hurdles it now faces.
The proposed tie up, which would see the Franco-German EADS controlling around 60 percent of the newly created group alongside Britain's BAE Systems, was announced by the companies late Wednesday. If approved, it would command around $100bn in annual sales, boast an employee base of more than 220,000 and challenge the global market dominance of US rivals Lockheed Martin and Boeing.
BAE shares fell more than 5 percent in early London trading to change hands at 344 pence - higher than the 329 pence level it hit just prior to news of the merger but 4.9 percent lower than the two-year high of 362.5 pence it touched immediately after reports of the tie-up surfaced. In Paris, EADS shares fell a further 7.7 percent Thursday after a declining 5.6 percent into the close of trading Wednesday.
"BAE Systems and EADS believe that the potential combination of their two businesses offers the prospect of significant benefits for customers and shareholders," the companies said in a statement issued outside of market hours Wednesday. No indication was given as to where the combined group would be headquartered or which of the two firm's CEOs - Tom Enders of EADS or Ian King of BAE - would be chosen as its leader.
The deal faces potential difficulty on a number of levels, including the exit of important shareholders and the delicate balance of a Franco-German shareholder pact that has been in place since EADS was created in 1999
German automaker Daimler SA told the Reuters news agency that it may consider dumping its 22.5 percent stake in EADS, the parent of Airbus and the world's largest planemaker, if the "planned transaction would also be linked to a possible dissolution of the Shareholder Pact."
Both the Spanish and French governments also own stakes in EADS, as do certain German Federal states and some of its banks. France's finance minister, Pierre Moscovici, issued a statement through his office Wednesday saying the government would decide on a course of action in its own time and within the governance rules of the group.
The German government has denied an earlier report that it had given approval for the merger, although it said in a statement Thursday that it had been informed of the merger and was asked for its support. Officials in Britain and the United States have told Reuters they will also examine the deal if asked.
Its potential business in the US, where BAE earns the bulk of its revenues, may also be affected. Both groups currently operate under strict security arrangements with the US Department of Defence on sensitive military technology, but a combined group would provide a significant challenge to both Lockheed and Boeing and could raise the spectre of anti-trust of competition issues with American lawmakers eager to protect domestic jobs.
Here in the UK, the Guardian is reporting that Unite, Britain's biggest trade union, is seeking an "urgent" meeting with Business Secretary Vince Cable and Defence Secretary Philip Hammond in order to discuss protection of the 48,000 jobs the merger would create domestically.
"Our first priority will be to safeguard jobs and skills. Any merger will need political approval in Europe and the USA. Questions need to be asked about when the UK government knew about this and what they will do to safeguard jobs," said Unite's National Officer, Ian Waddell.