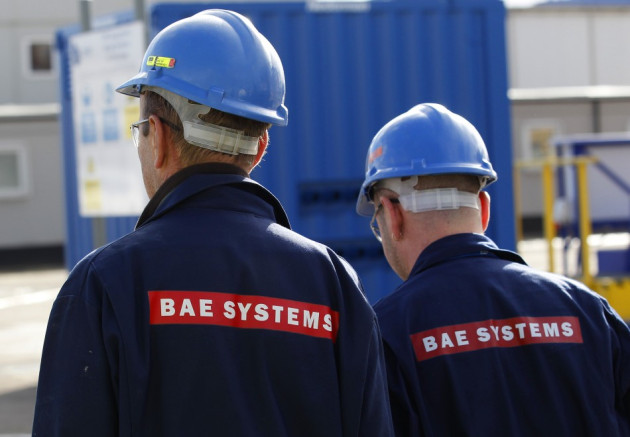 The proposed tie-up between European aerospace giants EADS and BAE Systems has collapsed after executives from both firms failed to win support from German, French and British governments.
"Discussions with the relevant governments had not reached a point where both companies could fully disclose the benefits and detailed business case for this merger," BAE said in a statement. "The merger would have produced a combined business that would have been a technology leader and a greater force for competition and growth across both the commercial aerospace and defence sectors and which would have delivered tangible benefits to all stakeholders."
The proposed tie-up, announced on 12 September, would create the world's biggest aerospace and defence group with nearly $100bn in annual revenues and more 220,000 employees around the world.
BAE Chairman Dick Olver told reporters on a conference call that his company was not looking at another merger partner and would not reconsider a tie-up with EADS unless the political landscape changes considerably. CEO Ian King said it was "accurate" to say there were problems with the German government. He also rejected the notion that BAE might be the target of takeover atttempt.
"We would argue that rumours that BAE Systems is now 'in play' are doubtful," said Brewin Dolphin equity analyst Ed Salvesen. "It is time for management to focus on delivering its full year results and we would argue that divestments are unlikely. Any potential cash flow would have to feed the pension deficit rather than be returned to shareholders."
German reluctance at singing-off on a combined group with headquarters in Paris and a defence business hub in London is said to have been the biggest stumbling block in the negotiations between EADS boss Tome Enders and his opposite number at BAE.
Daimler AG holds a 22.5 percent stake in EADS that is widely-assumed will be sold to the German government in the near future. Officials in Chancellor Angela Merkel's government have sought job and manufacturing commitments from Enders and King in return for a takeover blessing from Berlin.
"I think that Germany's industrial interests in a strong value chain from research to development and on through to industrial production are best guaranteed" through an independent EADS, Germany's Deputy Economy Minister, Peter Hintze, was quoted as saying to Spiegel Online.
From the British perspective there has been concern that French and German stakes in the group - designed as a 60 percent/40 percent split that favours EADS - would rise past the negotiated threshold of 9 percent and complicate London's desire to veto executive decisions that would be judged harmful to Britain's national security.
We are waiting for an announcement from the companies - the companies are dealing with it now," said Britain's Defence Minister, Philip Hammond, in an interview with Reuters Wednesday prior to the deal's collapse. "They had a board meeting yesterday afternoon evening. We are waiting to hear their announcement which I understand has to come today," he said. "It is not for me to say who is doing what - it is the companies that now have the decision in their hands."
"If we fail, it will not be because the two companies couldn't agree," Enders told employees Tuesday. "It will be because others couldn't get their act together and provide the necessary prerequisites for the combination."
Shares in EADS, which have fallen around 12 percent since the deal was first made public, rose more than 5 percent in Paris trading Wednesday to change hands at €27.46 each. BAE shares little changed in London and trading at 325 pence after trading as high as 363 pence on the day of the announcement.
The merger has faced myriad difficulties and raised several issues of security and competition, particularly in the United States, BAE generates around $7.3bn each year from business with the US Department of Defence (DoD), more than seven times more than the $684m generated by EADS.
The largest US defence industry lobby group has long resisted giving Airbus, Boeing's chief rival and unit of EADS, a seat at the table when it bargains for DoD contracts because of the 15 percent ownership of the French government.
Boeing does around $22.1bn each year as the DoD's number-two partner after Lockheed Martin. With US government plans to trim as much as $500bn from the DoD's budget over the next 10 years, analysts say competition for contracts will increase significantly and domestic job creation could mean the difference between winning and losing lucrative business.
"We believe that the complex ownership structure and partial government ownership could constrain the combined company's ability to expand its US business, as demonstrated by the long, acrimonious competition between Boeing and EADS to produce aerial refuelling tankers for the US Air Force," Standard & Poor's analysts wrote the day after the merger was announced.
Analysts at Moody's Investors Service expressed similar concerns, noting the cross-pollination of ownership within EADS that includes both national governments and some if its European commercial rivals. "Extra ring-fencing of certain operations beyond existing structures will likely be a requirement if the transaction proceeds to successful completion," it said.
"As such, even higher-level management complexity than exists today would be an important risk factor for the combined entity. These complex interrelationships could complicate, delay, or outright preclude requisite regulatory approvals of an EADS-BAE merger."