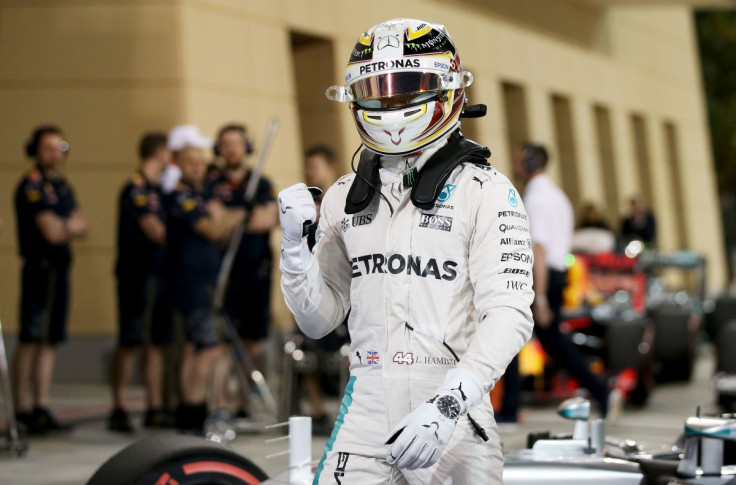 Mercedes' Lewis Hamilton will begin the 2016 Bahrain Grand Prix in pole position after setting a blistering pace during the latter stages of qualifying on 2 April. The reigning world champion, who was pole for season opener in Australia last month before finishing second behind Nico Rosberg, turned up the intensity after a slow start to set the fastest ever lap in Sakhir, with a time of 1:29.493.
That was enough to beat his teammate Rosberg by 0.077 seconds, while Ferrari, who demonstrated quick speed during practice, secured the next two spots, Sebastian Vettel third and Kimi Raikkonen fourth. Red Bull's Daniel Ricciardo will begin Sunday's race in fifth, just ahead of Williams duo Valtteri Bottas and Felipe Massa. Nico Hulkenberg, Romain Grosjean and Max Verstappen round out the top 10.
"It's not been a smooth sailing weekend in terms of pace," Hamilton said after securing the 51st pole position of his career, third on the all-time list behind Michael Schumacher and Ayrton Senna. "I was generally struggling to put laps together and luckily the lap I did put together was the last one. The car felt great. It's incredible to think we are quicker than the V10 days. It shows how far the technology has come."
Rosberg added: "My lap felt good and I was sure I was on pole. Lewis put in an incredible lap to beat me. This track is where pole counts least I think. There are still a lot of opportunities."
With Formula 1's controversial new elimination-style qualifying receiving its fair share of criticism once again in Bahrain, the sport's stakeholders are set to hold a meeting later this weekend in order to find a solution.