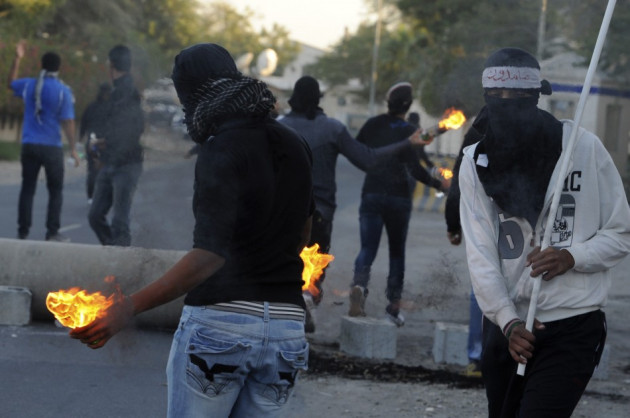 A Bahraini woman has committed suicide in protest against government's crackdown on demonstrators in the country.
Badriya Ali, 59, set herself on fire on the rooftop of her house in Sanabis, a little town west of Manama. She has suffered from severe depression for months, after the security forces raided her village to arrest his son, Ahmed Mushaima, 25 years old.
"Mercenaries from Asia and other Arab countries have several times attacked anti-regime demonstrations in Sanabis," Nabeel Rajab, President of Bahrain Centre for Human Rights told the International Business Times UK. "They raid villages robbing money and abusing women and children in their houses. All the area is living in a state of fear. Being a Shia is enough to be arrested."
Security forces allegedly beat Badriya's son in front of her, banging his head against an air conditioner repeatedly. Then, they pulled her old sick husband from bed to arrest him, but he was too weak and fell to the ground. The woman fainted after the incident. Before leaving, the officers wrote "Long live Khalifa" on the walls of her home.
King Hamad bin Isa al-Khalifa is facing a one-year uprising in Bahrain, a US ally in the Persian Gulf. Riot police and demonstrators clash almost daily in the country.
After the raid, the woman went into deep depression. The Bahrain Centre for Human Rights reports that Badriya fell completely silent, after crying continuously for one week.
"A lot of people suffer from depression because of isolation, torture, prosecution and sexual harassment," said Rajab. "The majority of them do not speak up and some do not even know they have problems."
In recent weeks Sanabis was attacked again. Badriya saw an old woman being chased by security forces in the street. Since that day, she was terrified and her family had to watch her constantly. Badriya reportedly told her children that she could not take it anymore.
The Bahrain Centre for Human Rights reports that another 81-year-old woman, Salma Mohsin, died from teargas suffocation. "In this uprising, many women have died because of suffocation from teargas," said Rajab.
Security forces often shoot teargas into residential areas as a form of collective punishment.