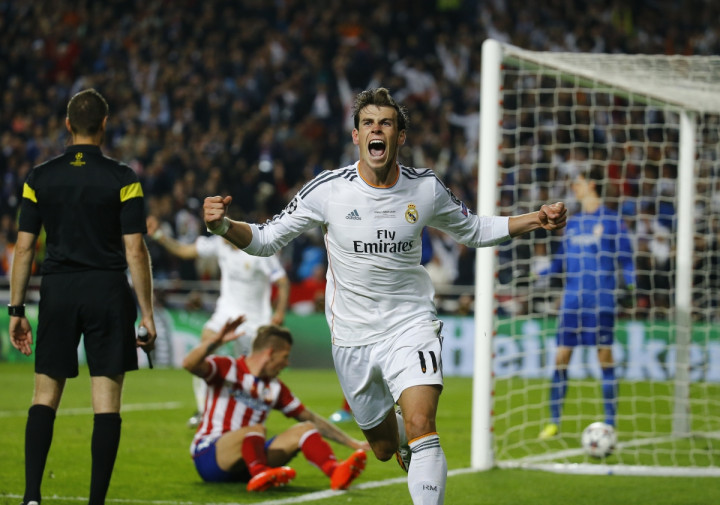 Gareth Bale's move from Tottenham to Real Madrid has been hailed as the best signing of the year by Spanish newspaper Marca.
Despite minor pre-season injuries, the Wales international adapted well to the pressure of his £91m world record move to La Liga, scoring two crucial goals -- in both the Copa del Rey and Champions League finals -- in the process leading his side to a couple of historic victories.
Furthermore, Bale was crucial in the Champions League semi-final victory over Bayern Munich (5-0 on aggregate), with an assist for Cristiano Ronaldo's first goal and a surprising defensive commitment.
The Spanish newspaper compared Bale's stats during his first year at Real Madrid with those of others who had swapped their teams during the last summer transfer window such as Neymar, Edinson Cavani or Gonzalo Higuain. It concluded that the former Tottenham star has been so far the best 'rookie' of the year.
Bale has been involved in 38 Real Madrid goals this season, scoring 22 goals and assisting in 16 – all while playing on an unfamiliar right flank in order to allow Cristiano Ronaldo to operate on his favoured left.
Higuain scored 24 goals and grabbed 12 assist in his first year at Napoli. Manchester City striker Alvaro Negredo, hit 23 goals and eight assists but has the best goal-per-minute average (every 111 minutes).
Meanwhile, Paris Saint Germain striker Cavani overhauled Bale's goal tally with 25 of his own but only managed seven assists.
Bale also beat Neymar in both goals and assists tallies with the Brazilian star involved in just 30 Barcelona goals, scoring 15 and grabbing another 15 assists.