Bali 9: Lawyer of executed Australians Andrew Chan and Myuran Sukumuran tweets 'I failed. I lost'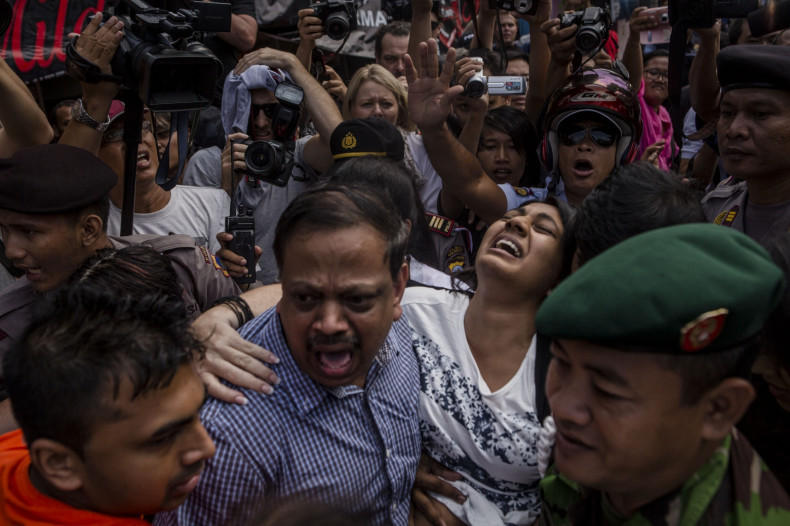 Shock and anger has set in at the execution by firing squad of eight people for drug offences by the Indonesian government.
They included two Australians, Andrew Chan and Myuran Sukumuran, who were the subject of a sustained campaign for clemency.
The lawyer of the two Australians, Todung Mulya Lubis was devastated that Indonesian president Joko Widodo showed no mercy, and sent out heartfelt tweets on news of the executions.
He also posted an artwork by his client Myuran Sukumuran, who learned to paint as part of his rehabilitation in prison in Indonesia. It is a self-portrait with a big hole in his chest.
Even in the last minutes, Lubis was attempting to seek a stay of execution in a legal challenge, stating that to send Myuran Sukumaran and Andrew Chan for execution would betray the spirit of human rights.
Todung Mulya Lubis had joined human rights advocates in Jakarta on Wednesday to explain the latest action lodged with the constitutional court last week.
The attorney general, HM Prasetyo, said the court action would not stop the executions, because it could only impact future cases.
Lubis said he'd tried to meet with Prasetyo, underlining that it was an important case.
"I respectfully ask the attorney-general to respect the judicial review process because it is a legal process," he told reporters.
The case was about more than the two Australians, he argued.
"If you have thought this over and over, if you, if you've thought of the general picture, it's not only for the two young men, it's for the others," he said. "You have to give reasons, you have to make it more humane.
"A clemency rejection is not a means to dehumanise."
Lubis also expressed his disappointment in Indonesia's use of the death penalty in light of Saudi Arabia's execution on Tuesday of Indonesian domestic worker Siti Zaenab.
Australian foreign minister, Julie Bishop, has promised "consequences" for Indonesia if the executions went ahead, but she was not holding out much hope: "I fear that this execution will proceed."