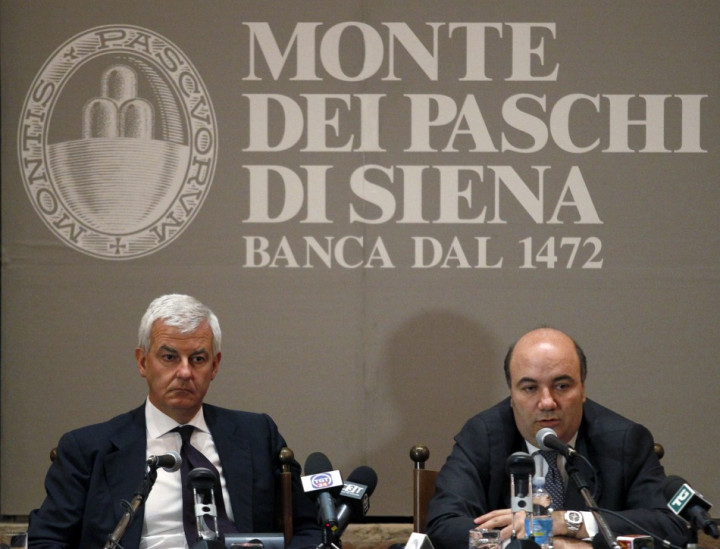 Italy's third largest bank, Banca Monte dei Paschi di Siena, is trying to sale €1bn worth of bonds to the state by the end of this month in order to plug a capital shortfall that is required to be filled by European Union (EU) regulations.
According to unnamed sources in a Reuters report, the group could be the first Italian bank to resort to state aid, as it is in active talks with the Treasury and the Bank of Italy for a capital fix, in the form of bonds.
The European Banking Authority (EBA) published its formal Recommendation in December last year, and the final figures, related to banks' recapitalisation needs, which revealed that European banks must raise €114.7bn of additional capital buffers by June this year, which is 8 percent more than its initial estimate of €106bn.
The EBA also revealed that a number of Italian banks had a significant shortfall on their balance sheets with Banca Monte dei Paschi di Siena needing €3.267bn by the end of June this year.
Top management at the bank suggested it could issue contingency capital bonds to fill the remaining capital hole, after the EBA findings were released.
Banca Monte dei Paschi di Siena shares were down some 3 percent as of 1212 GMT at €0.21, following the report and have fallen nearly 63 percent since July of last year.
Italian Banks Shoring Up Capital
Italian banks have so far managed to avoid any state intervention or stimulus from the government.
Italy's largest bank Unicredit, as well as IntesaSanpaolo have managed to boost their capital base by raising capital by selling off assets and shoring up cash in the private market over the last year.
In May this year, Italy's two largest banks, Unicredit and Intesa Sanpaolo, confirmed sales of their combined stake in Europe's biggest bourse - the London Stock Exchange.
In two separate statements, Unicredit which owns 6.1 percent and Intesa which owns 5.4 percent, said they have sold their combined stake to institutional investors in a bid to boost capital through shedding non-core assets.
Intesa said it has sold 14.5 million existing ordinary shares in the LSE at a price of 960 pence per ordinary share in an accelerated bookbuilt offering, worth £139.3m, which will represent "a positive contribution to consolidated net income for Intesa Sanpaolo S.p.A. of approximately €105m."
Unicredit said in a statement that the "Placing" comprises an offer of 16.6 million existing ordinary shares but did not disclose a price per share in its statement.
However, Banca Monte dei Paschi di Siena seeking state aid through the form of bonds is what some market participants say is the bank's "only option" as it has already issued €1.9bn of similar Treasury-backed bonds in 2009, with a coupon of 8.5 percent rising to 9 percent from July 2013.
Banks Scrambling for Capital
At IBTimes UK, we have highlighted the major issue banks are facing- the scramble for cash.
European banks are fighting hard to shore up their balance sheets in time for regulatory changes that force them to hold a certain level of cash, in case of another major market crisis, just as they're being battered for not lending as much as governments would like.
Recently, the Swiss National Bank's (SNB) warned Credit Suisse and UBS that while both have a bigger cash cushion than its European counterparts, the banks still fall behind in capital requirements under international Basel III rules, which are coming into force in 2019.
Basel III rules will, however, affect all banks.
In the UK, banks are forced to shore up even more capital if the UK's Treasury "White Paper" is voted in by lawmakers. The move will require retail and investment banks to be "ring-fenced" and improve their capital bases.
Meanwhile, investors are awaiting the final details of size and conditions of a Spanish bailout after the results from independent auditors, Oliver Wyman and Roland Berger, assessing the state of Spanish banks concluded that the country's banks alone will need up €62bn in extra capital.