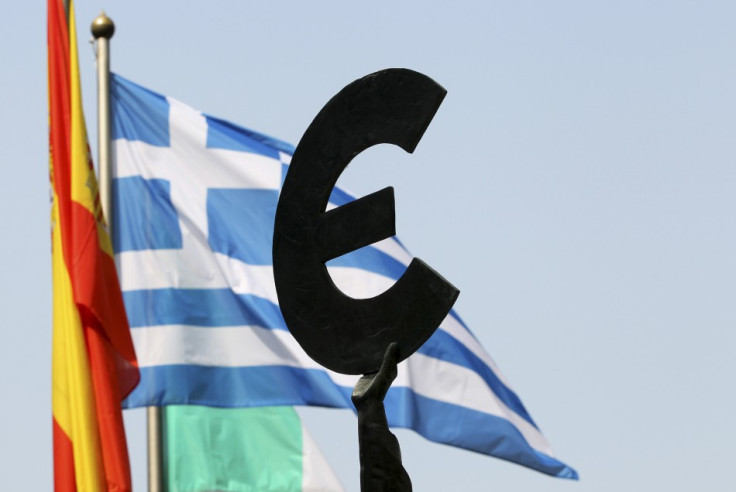 Voters in Greece face a stark choice as they head to the polls for a second election in as many months this weekend: accept the crippling austerity which may mire its economy in recession for a decade but keep it the Eurozone or vote for a party that may take it out of the single currency and into the political unknown.
However, even amid reports of Greeks stockpiling canned food and dried pasta and withdrawing up to €800mn a day from the nation's banks stemming from concern of being pushed out the Eurozone, some polls still suggest a preference the anti-bailout parties, including Syriza, that could turn that fear into reality.
This is primarily because the public have been pushed to the limits on austerity measures and may wish to usher in a new government led by Alexis Tsipras, the charismatic leader who guided his Syriza party to a surprise second place finish in the first election on 6 May. Tsipras, 37, has pledged to halt job cuts and tear up the terms of the country's €240bn bailout with the European Union and the International Monetary Fund.
That said, unofficial polls which have leaked in the past few days suggest pro-bailout parties such as first election winner New Democracy (led by Antonis Samaras) and third place finisher PASOK (led by Evangelos Venizelos) may garner just enough support to form the slimmest of majorities in Greece's 300 seat parliament.
But it's going to be close either way. And the world will be watching.
"[An] exit would be economically ruinous for Greece," said analysts at Société Générale, who suggest the economy could collapse by 50 percent under a worst-case exit. "For the Eurozone, any Greek exit would have a negative impact, but more than that, it would dramatically reduce the time available to sort out the shambolic architecture that is threatening the system."
Markets versus the Public
In a bid to temper talk of a Greek exit, German Chancellor Angela Merkel told CNBC on 16 May that she wanted the country to remain in the economic-monetary union.
"I want, just like Jean-Claude Juncker, that Greece stays in the euro. I think that would be good for Greece and for all of us," she said. Juncker is Luxembourg's prime minister.
Merkel added, "If Greece believes that we can find more stimulus in Europe in addition to the memorandum (the deal stuck with the troika), then we have to talk about that.
Francois Holland, who won the French elections also held on May 6 this year, delivered a stark message to the Greeks that if they vote to move away from international bailout commitments, such as the stricter austerity measures in exchange for cash injections for their economy, then they will be pushed out of the Eurozone, although he does want Greece to remain part of Euro.
"Greeks must know that this presupposes a relationship of trust," added Hollande in an interview with Greece's Mega television station. "I respect the Greek people. They will decide what they want on the occasion of the election."
If Greeks do choose to vote against previous agreements, they risk expulsion from the euro, which will in turn, have a crippling effect to the wider Eurozone economy, as well as prolonging the, so far, five year recession the country is immersed in.
While Greeks are being vocal in being pushed to breaking point, the markets are hoping and urging that voters will choose the pro-bailout camp because without the rescue loans, the country would most likely default, be forced out of the Euro and therefore have widespread repercussions on the rest of the European markets.
Reports overnight make for dire reading, suggesting the caretaker government has only about €2bn left in which to pay public sector salaries and generally manage the nation's day-to-day finances.
According to the latest data from the bank of Greece, the country's banking system had €165.85bn of deposits at the end of April and reports suggest ordinary Greeks are removing as much as €800m each day in advance of Sunday's vote.
Greece needs the money but the recession is pushing the Greek public to scavenge for food and a majority, according to polling, believe that they would rather risk Greece leaving the euro than adhering to strict austerity measures.
The May 6 election led to an inconclusive ballot, which left no party with enough Parliamentary seats to form a government and coalition negotiations collapsed, after favouring smaller, mostly anti-bailout groups on the right and left of the political spectrum.
Investors worry now that there may be a repeat of the same voting pattern as opinion polls published ahead of a two-week pre-election ban showed that no party was likely to win enough votes Sunday to form a government on its own.
'Grexit' imminent?
Credit rating agency Moody's Investors Service has warned that it was also likely to slash several Eurozone debt ratings if Sunday's election were to increase the chances of it country leaving the euro - either by choice or by implication.
No country has ever left the Euro and there are no procedures in the EU's rulebook for pushing any country out, which has led to analysts delving into the contagious effects it will have on the wider Eurozone.
Greeks themselves are keen to remain; polls suggest more than 80 percent do not wish to leave the embrace of the Eurzone. That's a sharp contrast to the views recently expressed in a Forsa Research Unit survey published in Stern Magazine, where 49 percent of Germans said they wished to see Greece kicked-out of the single currency.
Even if pro-bailout parties manage to win a majority, Samaras and Venizelos may feel they have the potential to re-negotiate terms with the EU after Brussels agreed to a €100bn loan for Spain's banking system that had no conditions on public spending.
'The Lehman Effect'
At the beginning of the month, sets of analysts remarked and indicated that if Greece were to leave the Euro, the indirect contagion risks could potentially generate a "Lehman moment" in the Eurozone.
In a special report led by 13 senior analysts, SG said that these risks could have a domino effect on Italy and Spain's deposit outflows and have a crippling effect on European stock markets while the European Central Bank (ECB) would not be able to cope with a third round of long term refinancing operation (LTRO) and a second round of Securities market programme (SMP) funding.
"Indirect contagion risks (which involve Spain or Italy) have the potential to be far more damaging and could force European equity markets to fall 50 percent," said the SG report. "On top of significant deleveraging due to deposit outflows (20-30 percent as in Greece), a funding gap of €200bn to €400bn in Italy and €145bn to €280bn in Spain would likely emerge. Because indirect contagion risks have the potential to generate a 'Lehman moment' in the Eurozone, we strongly believe the euro area's official firewalls will be activated."
Furthermore, in a Barclays Capital research paper titled: 'Risks and repercussions of a Greek exit', the bank highlighted currency moves that supported this.
"We noted that currency moves after the Greek election on May 6 were similar to those that followed the Lehman Brothers bankruptcy," said analysts. "In our view, this suggested that the election was essentially perceived as a "risk event" in FX markets rather than as a EUR-specific issue."
If Greece were to leave the Euro, then the country would have to revert to printing its own currency, the drachma, and have dire consequences for the country and for the Eurozone.
"Our base-case assumption is that EUR/USD falls to 1.10 if Greece leaves. At that level, the euro is clearly undervalued and the risk/reward for foreign investors to buy starts to look attractive, even in a dire scenario," said analysts at SG. "As for Greece, our best guess is that a devaluation of 50 percent would be seen from current levels if a new currency were introduced."
Greeks have to realise that if Greece left the euro, then it will hit them hard and most likely harder than if they were to stick to the conditions, under the agreement of the bailout packages.
The Greek think tank, Foundation for Economic and Industrial Research supports analyst consensus that the new drachma would lose half or more of its value relative to the euro and therefore drive up inflation and sucker punch purchasing power of the average Greek.
Meanwhile, the country's economic output would drop, putting more people out of work where one in five is already unemployed, say the group.