Bangladesh Factory Disaster: 40 Workers Pulled Alive from Rubble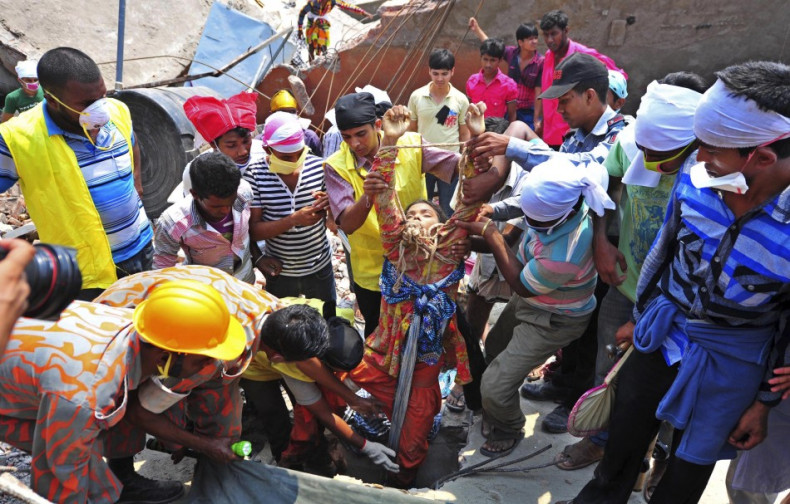 Fire officials and rescue workers have pulled forty people out alive from the rubble of an eight-storey building in the Bangladeshi capital Dhaka, a day after it collapsed killing more than 220 people.
Many more were feared trapped in the building after the disaster at the Rana Plaza building in Savar, 20 miles outside Dhaka, which housed garment factories and other companies.
"An unspecified number of victims are still trapped," Mizanur Rahman, a rescue worker with the fire brigade, told Reuters. "We can't be certain of getting them all out alive. We are losing a bit of hope."
The news that 40 people had been found alive was met with euphoria at the scene, according to the BBC.
Dhaka's city development authority has filed a lawsuit against the building's owner for faulty construction, according to police chief Habibur Rahman. It filed another case against the owner and the five garments factories for causing unlawful death.
Home Affairs Minister Muhiuddin Khan Alamgir said the building had violated construction codes and that "the culprits would be punished."
Cracks were reported in the walls of the Rana Plaza on Tuesday. "We asked the garment owners to keep it closed," Bangladesh Garment Manufacturers and Exporters Association (BGMEA) president Mohammad Atiqul Islam said.
After the cracks appeared, managers of a local bank also ordered their employees to leave. However the garment factories, which made clothing for Primark, Matalan, Phantom Apparels, New Wave Style, New Wave Bottoms and New Wave Brothers, kept working - even ignoring the instructions of the local industrial police.
"After getting the green signal from the plaza owner all the garment factories opened," Islam said.
Police official Mohammad Asaduzzaman confirmed factory owners ignored a warning not to open the factory.
The 40 survivors were found on Thursday night, trapped in one room on the fourth floor of the building. Around 3,122 workers were employed at Rana Plaza in total.
Meanwhile dozens of bodies, their faces covered, were laid in a row outside a local school building to allow relatives to identify them. Rescue operations were progressing slowly, according to Brig. Gen. Mohammed Siddiqul Alam Shikder, who is overseeing army rescue teams.
Factories passed international safety standards
According to reports, at least two Bangladeshi garment factories in the building had passed international labour and safety standard audits. New Wave Style and Phantom Apparels had been audited against a series of criteria established by the Business Social Compliance Initiative (BSCI).
The BSCI was set up ten years ago by the Brussels-based Foreign Trade Association, which includes 1,000 European retailers including Adidas, Hugo Boss and Esprit Holdings.
"The fact that the BSCI checks didn't pick up structurally unsound buildings means that independent checks need to go further," Ilana Winterstein, of the Labour Behind the Label campaign, told IBTimes UK.
"The importance of brands signing up to the Bangladesh Fire and Building Safety Agreement is that it works with local unions and workers who can have a voice in what needs to change on a grassroots level. Ensuring that unions and workers are heard is vital."
The Agreement, which has already been accepted by major buyers such as PVH Corp (Tommy Hilfiger, Calvin Klein) and Tchibo, features independent inspections by trained fire safety experts, public reporting, mandatory repairs and renovations, a central role for workers and unions in oversight and implementation, and supplier contracts with sufficient financing and adequate pricing.
"It's a binding contract between brands and workers, different from business-as-usual measures," Lianna Foxvog, of the International Labor Rights Forum (ILRF), told IBTimes UK. "It's legally binding and implies a role for workers and brands."
Thousands of angry workers walked out of their factories in Bangladesh on Thursday to protest against the death of 220 people in the building collapse.
"There were hundreds of thousands of them," said Abdul Baten, police chief of Gazipur district, where hundreds of large garment factories are based. "They occupied roads for a while and then dispersed."
Demonstrators clashed with police in Dhaka and the nearby industrial zone of Ashulia.
Primark recognised it was using a factory in Rana Plaza, posting a statement on its Ethical Trading website which read: "The company is shocked and deeply saddened by this appalling incident at Savar, near Dhaka, and expresses its condolences to all of those involved."
British clothing retailer Matalan said it used to be supplied by one of the factories at the building, but not anymore. "We have been trying to get in touch with our contacts since we heard to check if we are able to assist them," the firm said in a statement.
Benetton said in an email to The Associated Press that people involved in the collapse were not Benetton suppliers.