Bangladesh Factory Collapse Kills 87: Owner Ignored Giant Fracture Warning [VIDEO]
Anxious Dhaka garment factory workers told by bosses not to worry about huge crack in building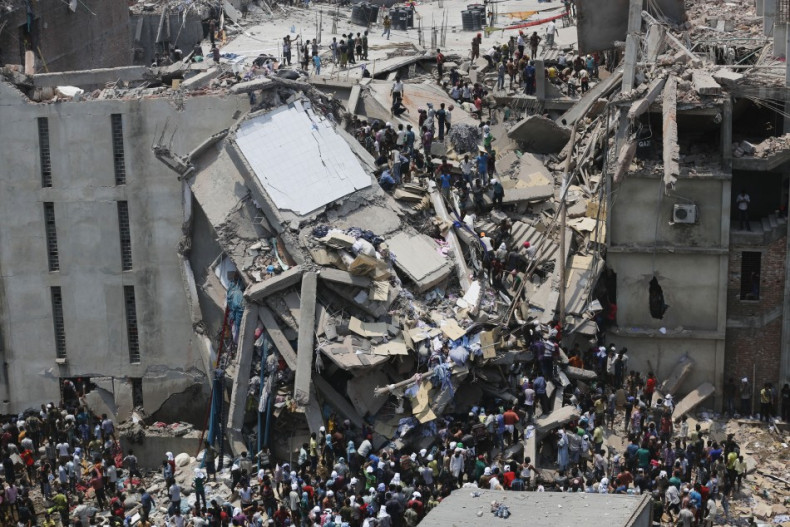 An eight-storey building collapsed in the Bangladeshi capital, Dhaka, leaving at least 87 garment workers dead.
The block contained a clothing factory, a bank and several other shops. At least 200 were injured by the collapse and hundreds of people remain trapped under the rabble. The army and fire service personnel are conducting desperate rescue operations. Around 1,000 people have been rescued from under the rabble.
Local media reports said a crack was detected in the building on Tuesday but the owner decided to keep it open even after engineers ordered the evacuation. Workers had hesitated to go to work Wednesday, but a factory manager assured there was no emergency so they got inside.
"Workers expressed concerns about the building and nothing was done," Liana Foxvog, of the International Labor Rights Forum (ILRF), told IBTimes UK.
Local police chief Mohammed Asaduzzaman told Reuters that the factory owners ignored a warning made by safety engineers not to let the workers inside the building after the crack was found. Then, the rear of the building suddenly started to collapse on Wednesday morning. The whole structure tumbled down shortly afterwards, leaving intact only the main pillar and parts of the front wall and causing panic.
Reports from Dhaka say the death toll could rise significantly. "We sent two people inside the building and we could rescue at least 20 people alive. They also told us that at least 100 to 150 people are injured and about 50 dead people are still trapped inside this floor," Mohammad Humayun, a supervisor at one of the garment factories, told AP.
One doctor at a nearby hospital told the BBC it "could not handle" the number of casualties coming in.
Among the businesses in the building were Phantom Apparels Ltd., New Wave Style Ltd., New Wave Bottoms Ltd. and New Wave Brothers Ltd., which make clothing for brands including Benetton, The Children's Place and Dress Barn.
Widespread problem
According to Foxvog, the collapse eerily echoes the Spectrum factory collapse in Bangladesh in 2005, in which 64 people were killed and 80 were injured. Garment factories in Bangladesh, the world's biggest exporter of clothing after China, are often located in unsafe buildings originally constructed for residential or commercial purposes.
"These buildings were made for residential purposes, not for heavy industries with overloads of people and machines," said Foxvog. "They don't have fire emergency exit or external fire escapes like those set on apartment buildings in the US and the UK. They don't have fireproof staircases and use instead a collapsible metal gate proof."
"The vast majority of Bangladesh's 5,000 factories are not compliant to safety measures," she continued. "If they were operative in the US or the UK they would have been told to shut down immediately."
An electrical fault was likely the cause for the fire at the Tazreen Fashions factory in Bangladesh last November, which killed 111 people. Since then, 40 other incidents have caused a total death toll of 10 people, with 650 workers injured. "The building collapse is one of several incidents," Foxvog said. "It's a widespread problem that needs a widespread solution."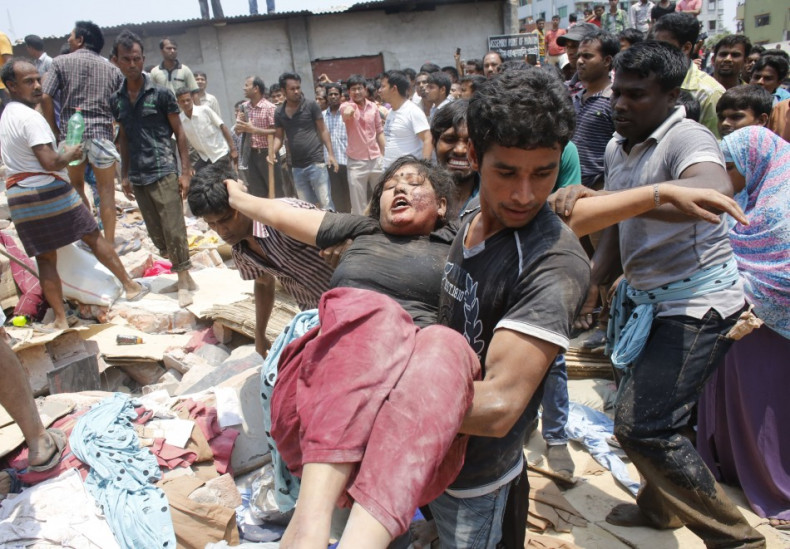 "This tragedy is a wake-up call for all the multinationals to provide sufficient funding to factories," she said. "Building should become compliant with safety measures."
The ILRF has set up a comprehensive fire safety programme called Bangladesh Fire and Building Safety Agreement to alleviate the decades-old deadly working conditions of workers at supplier factories in Bangladesh.
"We urgently need the Fire and Building safety agreement to ensure supervisors listen to workers when they report of cracks in the building," she said. "Instead in this case, workers were told not to worry and keep working."
According to ILRF research, since 2005 more than 700 garment workers have died as a result of unsafe buildings in Bangladesh. The programme, which has already been accepted by major buyers such as PVH Corp (Tommy Hilfiger, Calvin Klein) and Tchibo, features independent inspections by trained fire safety experts, public reporting, mandatory repairs and renovations, a central role for workers and unions in oversight and implementation, and supplier contracts with sufficient financing and adequate pricing.
"It's a binding contract between brands and workers, different from business-as-usual measures," said Foxvog. "It's legally binding and implies a role for workers and brands."
READ:
Bangladesh Factory Disaster: Workers Made Clothes for Benetton, Primark and Dress Barn