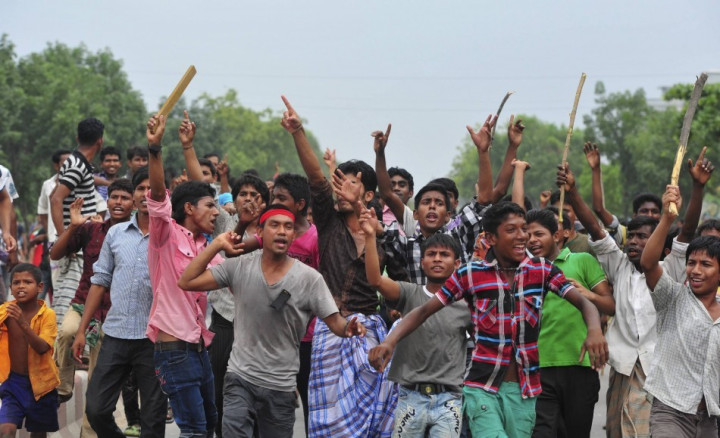 Thousands of garment factory workers in Bangladesh are protesting over low wage rates, resulting in the closure of many factories, according to media reports.
Bangladeshi workers are getting a minimum wage of $38 (£24, €28) per month, and they want it to be raised to $100. Meanwhile, factory owners are unwilling to increase wages beyond $45 per month, saying they are also hurt by rising production costs.
Police used rubber bullets and tear gas against the protestors in the Gazipur and Savar Industrial zones, just outside the capital of Dhaka, after they occupied streets, threw stones at police and disrupted traffic. The two areas are known for factories producing garments for international brands such as Wal-Mart and H&M.
The Asian country is the second-largest exporter of garments after China with its clothing industry valued at $20bn. The sector has been vital for the country's economic growth, as many foreign players source from garment factories there due to low wage rates and preferential treatment for Bangladeshi garments in foreign markets. The sector employs about 4 million people and generates 80% of the country's export earnings.
Rana Plaza Disaster
The harsh and unsafe working conditions in Bangladesh's garment factories came to limelight after the collapse of the eight-storey Rana Plaza building on 24 April, killing more than 1,100 people.
In addition, the sector suffered from numerous fires, including a November 2012 blaze that killed 112 workers.
Following the accidents, authorities in Bangladesh and clothing companies, especially in the US and Europe, have pledged to improve safety standards at the country's factories. Europe and the US account for 60% and 23% of clothes export from Bangladesh, respectively.
Earlier in July, a raft of 70 retailers had signed a legally binding pact to conduct safety inspections at factories in Bangladesh. Retail giants, including the biggest buyer of Bangladeshi-made clothes Sweden's H&M and Benetton, Inditex, Metro, Carrefour, Marks and Spencer, Tesco, Esprit and Abercrombie & Fitch were members of the agreement.
The agreement requires retailers to meet minimum fire and safety standards at the factories and to also stump up the costs for upgrading these measures.
They were also planning to compensate the victims of Bangladesh factory disasters, but failed to raise enough funds as many retailers decided not to contribute.