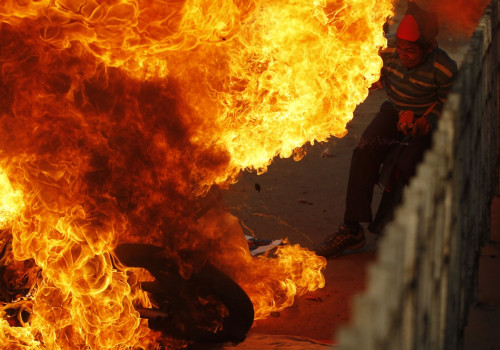 Polling stations have been torched and two more people killed in continuing protests against Sunday's general election in Bangladesh.
Approximately 30 polling stations around the country, many in schools and civic buildings, have been subjected to arson attacks, police and election officials said.
In southwestern Khulna, a ruling party official was shot dead, while a party youth activist was killed in clashes with supporters of the opposition Bangladesh National Party (BNP) in northwestern Lalmonirhat, police said, as violence again flared ahead of the bitterly disputed poll.
The BNP wants a neutral interim government installed while the election is conducted, as was the practice until 2010, and is backed by the Islamist Jamaat-e-Islami party.
"I call upon countrymen to fully boycott the disgraceful farce in the name of election of 5 January," BNP chief Begum Khaleda Zia said, as anti-government protesters began a general strike on Saturday morning.
Zia claims she is currently being held under house arrest, a claim the government denies.
So far 100 people have been killed in weeks of violence in the run-up to the election, with protesters shot dead by police, and killed when buses defying a transportation blockade designed to cut off textile exports were firebombed.
With swathes of seats uncontested in the election boycott, the Awami League of Prime Minister Sheikh Hasina will remain in power.
The United States, European Union and Commonwealth have all refused to send independent observers to monitor the election, citing a lack of meaningful options for voters.
Hasina and Zia have a bitter political rivalry stretching back decades, with one of the two having held the office of prime minister for all but two of the last 22 years.