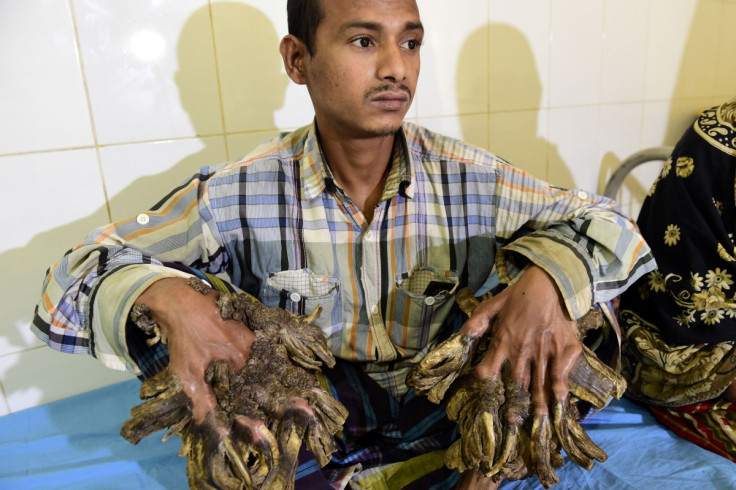 The 'Tree Man' – a Bangladeshi man with large warts on his hands and feet resembling tree roots – has been told he will receive surgery to finally remove the growths. Abul Bajandar, 26, first noticed the inflammations 10 years ago, but they have since developed into 5kg appendages.
The condition has been diagnosed as epidermodysplasia verruciformis, a skin condition which affects just two other known people in the world and causes scaly growths to appear from the hands and feet. The surgery to remove the warts will take place at the Dhaka Medical College and Hospital (DCMH).
"Initially, I thought that they were harmless," said Bajandar. "But slowly I lost all my ability to work. There are now dozens of 2in-3in roots in both my hands, and there are some small ones in my leg."
Just 16 when the warts first started to appear, Bajandar tried to cut them off himself at the time. He said it was extremely painful, so went to the village specialist instead, but claimed that the treatment of herbal medicine only made things worse.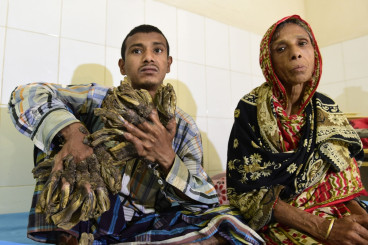 However, Bajandar can now have the growths removed with no fee attached. Doctors waived the cost of the expensive surgery, and are currently investigating whether the procedure can successfully be carried out without damaging major nerves or causing any other long-term damage.
"Popularly, it is known as tree-man disease," Samanta Lal Sen, director at DMCH, explained to AFP. "As far as we know, there are three such cases in the world including Abul Bajandar. It is the first time we have found such a rare case in Bangladesh."
In March 2007, a similar case occurred involving a Romanian gentleman, Ion Toader. Toader went through surgery six years later, and has since been generally cured, albeit with small relapses.