Goldman Battles to Preserve Bonuses - Credit Suisse, JPMorgan Plan Culls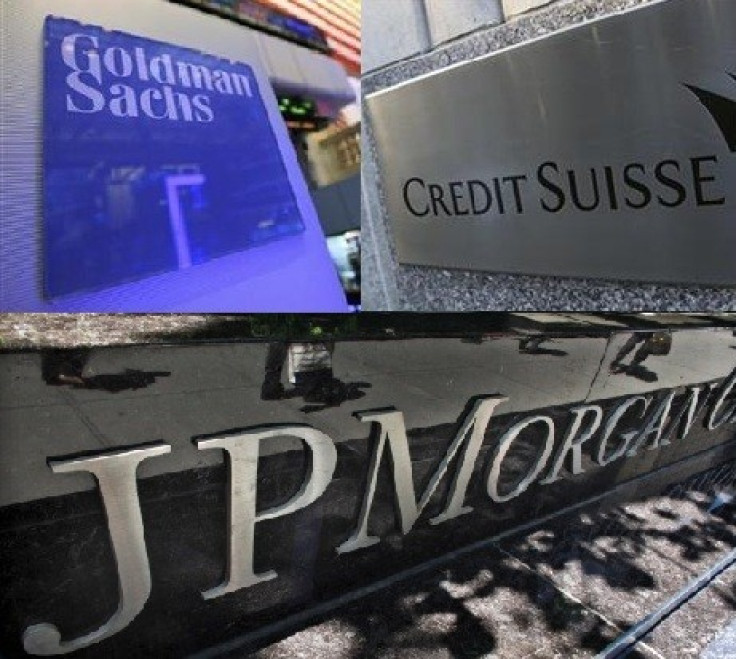 Goldman Sachs has taken a number of steps to preserve parts of its bumper US and UK bankers' bonus packages, while Credit Suisse and JP Morgan look to slash executive awards over the next year.
According to unnamed sources cited by news agency Reuters, Goldman is looking to delay deferred stock payments, which make up part of executive bonus packages, until after the end of the UK tax year, when the top rate of income tax drops by 5 percent.
The UK tax year ends on 6 April and those who earn over £150,000 are currently subject to a 50 percent tax rate. As of the next UK tax year, this drops to 45 percent.
The source added that Goldman's strategy to delay bonus payments, relate to bonuses that were deferred from 2009, 2010 and 2011.
A source close to Goldman told IBTimes UK that the investment bank would not be divulging its 2012 bonus payments until after its full-year results later this week. The source added that plans for the 2009, 2010 and 2011 stock award deferral are still under consideration.
At the beginning of this year, The Financial Times reported that Goldman had also preserved payouts to some of the banks most senior executives, by bringing forward payments of deferred stock to beat US tax hikes.
Citing US Securities and Exchange Commission filings, Goldman made $65m of stock awards weeks earlier than usual to 10 executives and just one day ahead of Congress agreeing to raise the top tax rate for individuals.
If Goldman made these payments one day later, individuals earning more than $400,000 would be subject to a 39.6 percent tax rate in 2013 from 35 percent in 2012.
Goldmans Sachs declined on both reports cited by IBTimes UK.
While reports of Goldman looking to preserve key elements of executive bonus packages, a number of reports have surfaced about JP Morgan and Credit Suisse are looking to slash bonus payments.
According to Swiss Sunday newspaper Der Sonntag, Credit Suisse will be reducing bonus payouts for the fourth year in a row, after it seeks to slash its overall bonus pool for private banking by 20 percent.
Citing unnamed sources, speculate that the reduction will effect 14,000 staff in its private banking business, as the bank looks to cut costs overall.
Over the last year, Credit Suisse has told investors that it is still seeking to cut costs, through a jobs and bonus cull and to raise capital, after missing analyst profit estimates.
Credit Suisse declined to comment on the report.
Meanwhile, a couple of major players at JP Morgan could face a reduction in their bonuses, after the board of directors' reviews of the $6.2bn "London Whale" trading loss.
Citing unnamed sources, the Wall Street Journal reported that JP Morgan's board of directors will announce that Dimon and the CFO at the time Doug Braunstein, will receive docked bonuses following one of the largest legal trading losses in history.
The board, which started its own internal probe over the "London Whale" incident last year, is tipped to release the results of the investigation when the bank reports its fourth-quarter and full-year results on Wednesday this week.
JP Morgan declined to comment on the report.
© Copyright IBTimes 2023. All rights reserved.