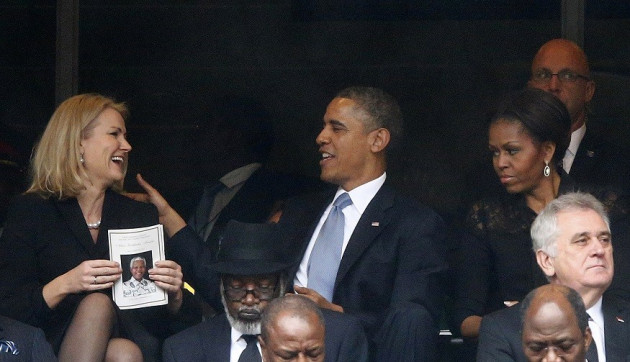 The photographer who captured Barack Obama sharing a 'selfie' photo with the Danish Prime Minister has spoken out about the image which is causing a stir online.
Roberto Schmidt, who took the image for AFP agency, said it was a "perfectly natural" thing for the leaders to do at the memorial service for Nelson Mandela in Soweto.
Schmidt also claimed Michelle Obama was not miffed by her husband getting up close and personal with Danish premier Helle Thorning-Schmidt for the image.
His own take on the image clashed with widespread opinion about the incident he captured - and the reaction of First Lady Michelle Obama to it.
The verdict on social media was that Michelle had been left distinctly non-plussed by the President sharing a selfie with blonde Thorning-Schmidt. Other images showing Michelle looking stony-faced and Obama kissing her hand later, only fuelled the view that the US president had erred in his wife's eyes.
But snapper Schmidt rejected this slant by claiming it was all about timing.
He wrote: "I later read on social media that Michelle Obama seemed to be rather peeved on seeing the Danish prime minister take the picture. But photos can lie. In reality, just a few seconds earlier the first lady was herself joking with those around her, Cameron and Schmidt included. Her stern look was captured by chance."
Click here to find out more about the woman holding the camera for the controversial selfie.
Questions were also raised about whether the memorial service was the right place for world leaders to be doing 'selfies' together. Cameron was accused of 'larking about' at what was a significant occasion of remembrance for a global icon. Not so, claimed photo journalist Schmidt.
He wrote: "For me, the behaviour of these leaders in snapping a selfie seems perfectly natural. I see nothing to complain about, and probably would have done the same in their place.
"It was interesting to see politicians in a human light because usually when we see them it is in such a controlled environment. Maybe this would not be such an issue if we, as the press, would have more access to dignitaries and be able to show they are human as the rest of us."
However, the snapper did express sadness that his picture had scooped so much coverage about the event - after he reminded readers how it had "quickly lit up the world."
"I confess too that it makes me a little sad we are so obsessed with day-to-day trivialities, instead of things of true importance."