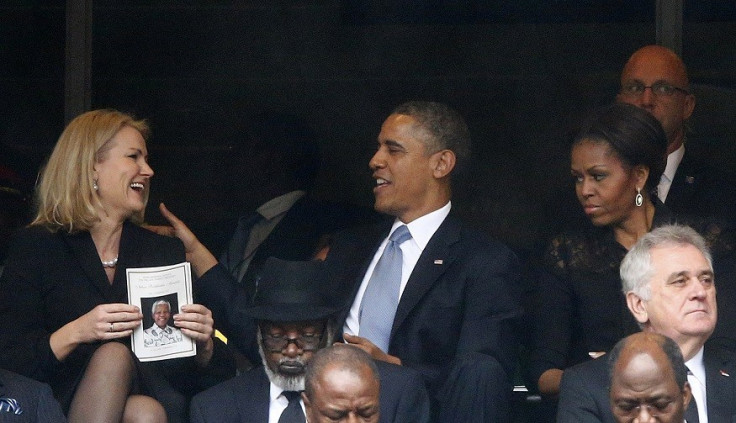 Danish PM Helle Thorning-Schmidt made headlines for taking a 'selfie' of herself with US President Barak Obama and British Prime Minister David Cameron, but who is she?
Michelle Obama got an introduction to the charms of blonde Thorning-Schmidt when her husband - the most powerful man in the world, chatted and joked with the Nordic Premier.
They exchanged niceties at a memorial service for Nelson Mandela, which was turned by the presence of so many heads of state in to an unofficial world summit, according to Cameron.
Judging by the frosty look on the First Lady of the United States' face, she had seen enough pressing of the flesh between the leaders.
Whether or not the memorial service was an appropriate occasion for Thorning-Schmidt to be taking selfies, it certainly raised her profile.
Getting Obama and Cameron to lean in and grin for a selfie was something not even the writers of hit Danish political drama Borgen could have made up.
Meanwhile, telegenic Thorning-Schmidt certainly looks like a on-screen natural. She also has links to former A-listers of British politics.
The 46-year-old, who leads the Social Democrat government, is married to Stephen Kinnock - son of ex-Labour leader, Neil Kinnock.
But whereas Kinnock failed to win power for Labour at two general elections, his daughter-in-law convinced voters to elect her party at the second time of asking, in 2011. Doing that meant Thorning-Schmidt broke the infamous 'curse of Kinnock' - whereby defeat was snatched from the jaws of electoral victory.
Stephen and Helle are today a real power couple in the corridors and meeting rooms of European and global institutions - where power is wielded and deals are struck behind closed doors.
Typically for a Scandanavian Premier, Thorning-Schmidt is a centrist in the tradition of the region's penchant for a social democratic model of high tax and heavy focus upon state solutions for social issues.
In office, Thorning-Schmidt has a record of easing the tax burden on Denmark's super-rich, while also relaxing measures designed to curb immigration in to the country.
But her meritocratic image was threatened in 2010 when allegations of less-than altruistic tax evasion were leveled against her husband. The probe was dropped months later, meaning little serious damage to the public's confidence in the family's commitment to the redistribution principle.
For a couple so steeped in European institutions, it was apt that Thorning-Schmidt should have met her husband at the College of Europe in Bruges, when both were students in the 1990s. After graduation, she served one term as an MEP in Brussels, while Stephen set about advancing himself at the Council of Britain quanqo and then at the World Economic Forum, an uber-quango.
Family bonds were strengthed by the presence of Neil Kinnock at the European Commission - where he fled to after being rejected by British voters.
Thorning-Schmidt's famous selfie has now helped make her more famous than most of her real-life predecessors - and maybe even Borgen's fictional premier Birgitte Nyborg - and propelled her into the global conciousness. That is the power of the 'selfie' in 2013.
Probably safe to say Michelle Obama shall not be giving it a thumbs up or a 'like' on social media, though.