Fiscal Cliff: Barack Obama Cuts Holiday Short to Resume Urgent Talks [VIDEO]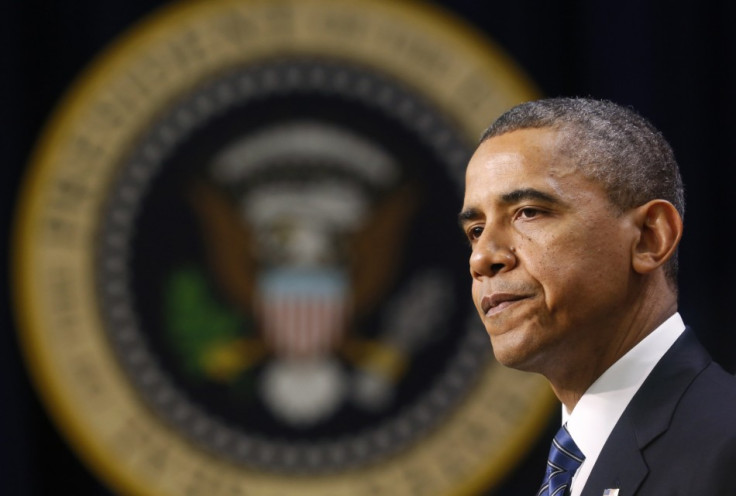 President Barack Obama has cut short his Christmas holiday in Hawaii to resume talks in Washington over how to avoid the so-called fiscal cliff.
If a compromise is not found, tax increases and huge spending cuts will come into force from 1 January, threatening to pull the US back into recession.
Despite the fast-approaching deadline, talks between the White House and Republicans appear nowhere near a solution. In a bid to break the deadlock, Republican House of Representatives Speaker John Boehner has asked the Democrat-controlled Senate to pass its own legislation to avoid the "cliff".
The corridors of Congress are silent for now but analysts remain hopeful that a short-term deal may be agreed that will postpone the potentially devastating cuts until spring.
Meanwhile, the US Treasury has announced that the $16.4tn (10.1tn/€12.36tn) debt ceiling, the legal limit set by Congress on how much the US government can borrow, will be reached on 31 December. Treasury Secretary Timothy Geitner said in an open letter to the Democrat Senate majority leader Harry Reid that "extraordinary measures" would be taken prevent it hitting a legal limit on its borrowing.
The four measures outlined are:
1 - Suspending sales of State and Local Government Series Treasury securities.
2 - Determining that a "debt issuance suspension period" exists, which permits the redemption of existing, and the suspension of new, investments of the Civil Service Retirement and Disability Fund and the Postal Service Retirees Health Benefit Fund.
3 - Suspending reinvestment of the Government Securities Investment Fund.
4 - Suspending reinvestment of the Exchange Stabilization Fund.
The letter proposes that such measures will create approximately $200bn in headroom under the debt limit for about another two months, though Geitner notes: "These measures are limited and therefore can postpone only briefly the need for an increase in the statutory debt limit."
The debt ceiling was raised on 31 July, 2011, from $14.3tn to $16.4tn on the condition that the imminent tax rises and spending cuts would come into force from 1 January, 2013. Four days after the increase, ratings agency Standard & Poor's downgraded the US from its top-ranking AAA credit rating for the first time in the country's history.
© Copyright IBTimes 2023. All rights reserved.