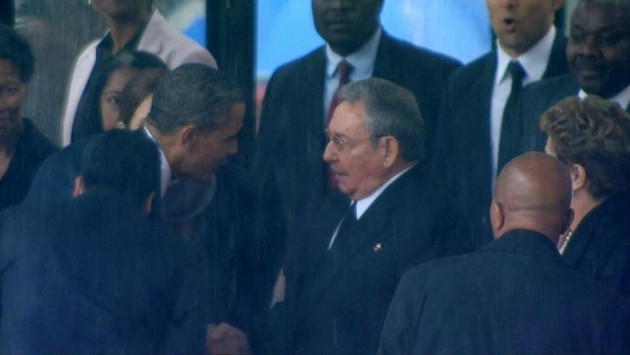 US president Barack Obama shook hands with arch-enemy Raul Castro, the president of Cuba, as he took the stage at the memorial for Nelson Mandela in Johannesburg.
In greetings heads of state at the memorial, Obama shook hands with the brother of Fidel Castro before kissing Brazilian president Dilma Rousseff.
"The world thanks you for sharing Nelson Mandela with us," Obama told the crowd of more than 90,000 people. He added that Mandela would emerge as the "last great liberator" of his century.
"His struggle was your struggle. His triumph was your triumph," he said.
Washington and Havana broke off diplomatic relations in 1961.
The US imposed economic sanctions on Cuba after the government of Fidel Castro (Raul Castro's brother) seized the property of US nationals and corporations in a wave of nationalisations. American businesses had owned a huge acreage of sugar and pineapple plantations as well as rich nickel mines.
In 1962, the sanctions were toughened to an almost full embargo.
In October, the UN general assembly voted against the embargo for the 22nd year in a row.
Under President Obama, some sanctions have been tightened, particularly those related to banking. Other restrictions related to Americans travelling to the island and the remittance of payments to Cubans have been relaxed.
The US defends the embargo as a way of promoting respect for civil and human rights in Cuba.
Raul Castro has started a slow economic opening up to private sector and loosened restrictions on Cubans travelling abroad. The easing of restrictions led to a 35% increase in the number of Cubans going to the US.