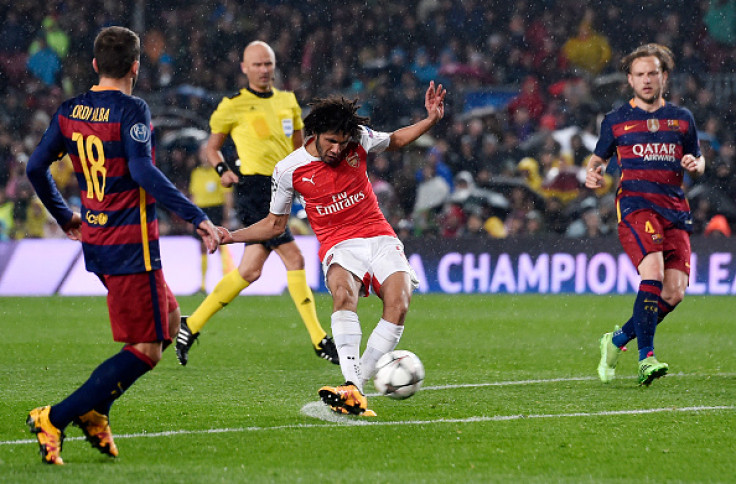 Arsenal midfielder Mohamed Elneny has revealed that he is pleased with his performance at Camp Nuo against Barcelona in a losing cause but insists that the Gunners have not yet given up on the race for the title. The midfielder made his first start in the Champions League this season and scored his first goal for the Gunners, something which should give him some confidence ahead of the title run-in.
The Gunners levelled the scores at 1-1 just after the second half began but failed to take their chances to put some real pressure on the Catalans. Danny Welbeck hit the post while Olivier Giroud and Alexis Sanchez had their shots blocked by goalkeeper Marc-Andre ter Stegen as the Gunners made their way out of the round of 16 phase of the tournament for the sixth year in succession.
Elneny was among the few bright sparks in the 3-1 loss against Barcelona with youngster Alex Iwobi being another player who stood out as Groundhog Day struck again for the north Londoners. The midfielder, who made his way from Basel in January, revealed that they tried their best to take something from the fixture but with the Gunners already 2-0 down from the first leg, it was a tough act to follow.
"We did what we could today. Sure, we lost, but we tried our best. We were playing against a big team. We're still up for the league. We need to focus. We still have nine games to go and God willing we can do it," Elneny told Arsenal's official website.
"We know it's a big stadium and a great stadium too but I'm happy with my performance today, but not that happy about the result. I knew it'd be hard, but there is no 'hard' in football."
The Gunners face Everton in the league in an early kick-off on Saturday where a loss will all but end their hopes of doing something special this season. Arsenal are already out of the FA Cup, having lost to Watford at the Emirates last Sunday.