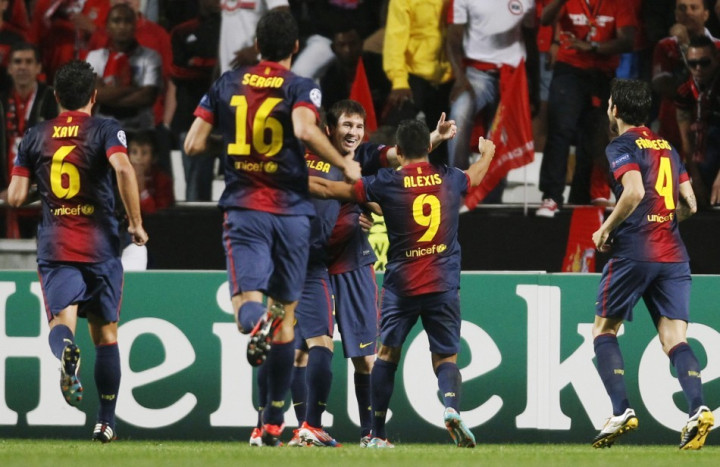 Barcelona president Sandro Rosell has accused Arsenal and Manchester City of poaching the Catalan club's players in a bid to re-create the tiki-taka style of play. The 48 year old Rosell's comments come after reports City are trying to sign Spanish international midfielder Sergio Busquets. The Gunners were accused of signing youngsters from La Masia, Barcelona's youth academy, like Cesc Fabregas, Jon Toral and Hector Bellerin.
"Busquets is the last try from City and in the past we have had the same situation for Messi, Valdes, Xavi and Puyol. But they have all stayed and this is the power and force of Barca. Some clubs have asked about Messi, but Leo personally has refused to negotiate," Rosell commented.
"City are now doing at first team what Arsenal have been doing at academy: call players and offer them lots of money. We are the best in the world, so other clubs want to emulate our success at every level and with every policy. They want to repeat our success and cause us to lose. But we will remain calm and focused on ourselves," he added.
However, it should be pointed out the Catalans have signed their fair share of big name (and big money) players from other top teams. The capture of French striker Thierry Henry in 2007 and Cameroon midfielder Alex Song earlier this summer, as well as the signing of Spain's David Villa (from Valencia) and Javier Mascherano (from Liverpool) in 2010, is proof enough of a degree of hypocrisy.
Moreover, the Catalans, in recent times, have been particularly enamoured of Arsenal's top players and the likes of Thomas Vermaelen, Jack Wilshere and Abou Diaby have all been linked with moves to the Nou Camp. Wenger, though, prefers to see Barcelona's interest in his players as praise of his training programme.
Beware Changing League Structures
Meanwhile, Rosell was also upset about the nature of club ownership deals, particularly in the Premier League and highlighted the Bundesliga's policies as being more worthy of emulation. He pointed to La Liga clubs in financial difficulties, like Malaga (who were taken over by members of the Qatari royal family before being deserted) and Atletico Madrid.
"Barca has never received an offer from a sheikh. La Liga needs to mirror the view of the Bundesliga and not the way the Premier League and some of their clubs function," he concluded.