Barcelona boss Luis Enrique plays down Luis Suarez anger after substitution in win at Granada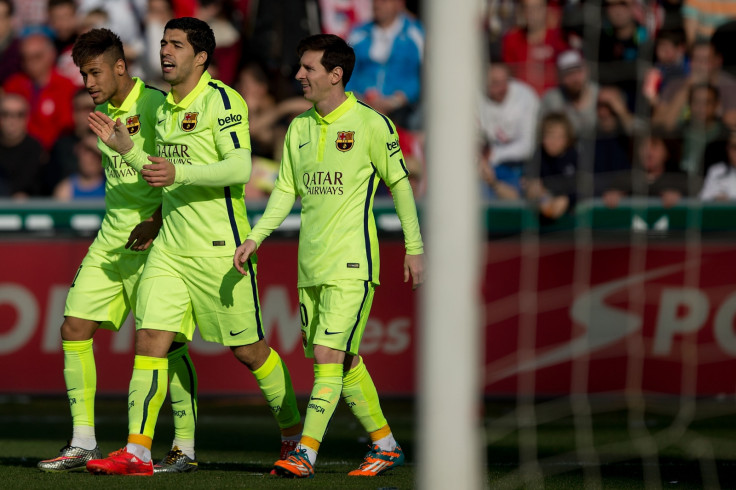 Barcelona manager Luis Enrique has played down the angry reaction of Luis Suarez during the victory over Granada on 28 February after the former Liverpool star was substituted in the second half of the game.
After his impressive brace at the Etihad Stadium during Barcelona's 2-1 victory over Manchester City, the Uruguay international added another goal to his tally and provided an assist to Lionel Messi in the 3-1 La Liga win at Granada.
However, even though the former Liverpool star was arguably playing better than Messi and Neymar, Enrique replaced him in the 79<sup>th minute with Pedro Rodriguez.
Suarez expressed his frustration on the bench while Spanish TV channel Cuatro showed later a video where the striker refused to look at his manager while leaving the ground.
But when asked about that during the press conference ahead of the Copa del Rey semi-final second leg tie against Villarreal on 4 March, Enrique responded: "What happens off the pitch doesn't interest me. I concentrate on attitudes on the pitch."
Questioned whether he understood that players get angry because they want to play every game, he said: "When I was a player I didn't want to play every match.
"That's maybe what people say but what they are thinking is another matter. I didn't want to play friendlies, exhibitions and the games when the reserves were playing."
The Catalan side beat Villarreal 3-1 in the first leg and Enrique suggested Suarez and Javier Mascherano will be rested for the return fixture as they will miss the final through suspension if they pick up a yellow or red card.
Enrique said: "Of course we have that in mind and it may have some effect on the starting 11. We're playing for a place in the final and we'll see what we decide."
© Copyright IBTimes 2023. All rights reserved.