Luis Suarez: I'm playing with 'two monsters' at Barcelona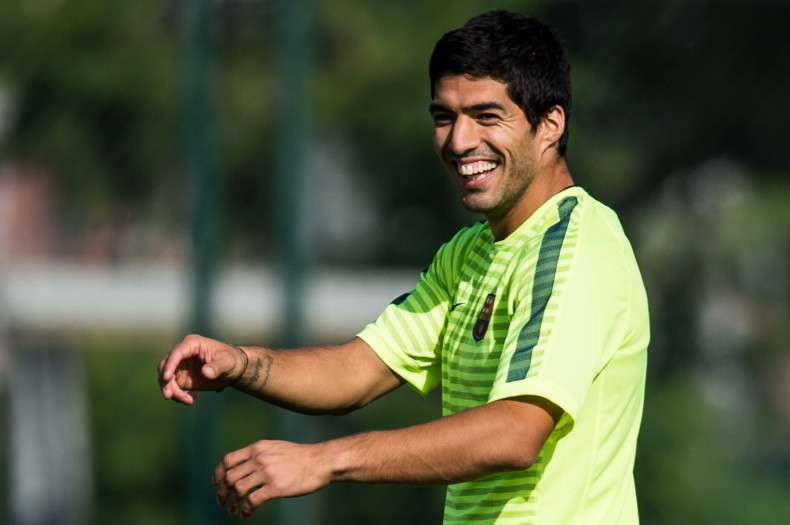 Former Liverpool hero Luis Suarez has explained that his lack of goals at Barcelona since his summer move to Camp Nou is due to the presence of "two monsters" - Lionel Messi and Neymar - in the same side.
The Uruguayan international moved to the La Liga giants last summer for £65m after being the joint-top goalscorer in the European leagues last season, alongside Ballon D'or winner Cristiano Ronaldo, netting 31 goals in 33 Premier League appearances for the Merseyside club.
But having missed the first three months of the season at the Camp Nou due to a ban for biting Giorgio Chiellini during the World Cup, Suarez has only netted four La Liga goals in 15 appearances for Luis Enrique's side – adding another two in the Champions League and an extra one in the Copa del Rey.
Meanwhile, Lionel Messi has already amassed 26 goals in 24 La Liga games while Neymar had scored 17 in 21 domestic league appearances.
Suarez has played down those figures while claim he is really happy at his quick adaptation to the Barcelona style.
"As a centre-forward, you're always under the microscope and judged on where you score goals or not. In my case, I have two monsters at my side (Messi and Neymar) that score a lot of goals. I'm not worried about scoring goals," Suarez explained, according to Marca.
"I worry when I play poorly or don't feel comfortable on the pitch. I'm not obsessed nor do I got crazy when I don't score, I'm very self-critical and I knew the goals would come eventually."
The Uruguayan praised the brilliance of his new teammates while insisting he has finally realised his footballing dream.
"They do it so naturally that you don't take into account the level of match you're playing. That's why I'm enjoying playing with these teammates like Messi and Neymar, as well as Iniesta, Pique and Mascherano," he said.
"You always dream of getting away and realizing your goals. Getting to go where you always wanted to go, you could say this is the ideal moment. It took a lot to get here and it's great to be able to enjoy this beautiful city, spectacular football and play in the stadium you always wished to play in," he said.