Barcelona technical secretary Robert Fernandez has claimed that the La Liga giants plan to make some "big name signings" during the summer transfer window amid recurrent links with Paris Saint Germain midfielder Marco Verratti, Arsenal right-back Hector Bellerin and Borussia Dortmund winger Ousmane Dembele.
The Catalans have appointed Ernesto Valverde as their new manager following a disappointing final campaign under Luis Enrique.
Barcelona secured their third consecutive Copa del Rey title by beating Alaves in the final but saw their arch-enemies Real Madrid win both the La Liga title and the Champions League crown.
Valverde is therefore expected to revamp his squad in order to put his side back on track ahead of the 2017-2018 campaign.
In this sense, AS and several other publications in Spain have claimed that Barcelona have identified Verratti, Bellerin and Dembele as their three priorities.
However, the negotiations won't be easy as the report suggested that the Catalans will need to spend up to €150m (£131.7m, $167m) to lure Verratti (€80m), Bellerin (€40m) and Dembele (€30m) to the Nou Camp.
Fernandez has now confirmed that Barcelona are working to bring in some "big names" in order to help Valverde to settle in his new club as soon as possible.
"It goes without saying that we'll bolster the squad in the positions we need and that they'll be big name signings," Fernandez said to the Barcelona official website. "Logically he (Valverde) will need some time to adapt, but not that much time, because he's a football man. We have a lot of information and there's a lot of work going on behind the scenes."
Last summer Barcelona spent around €122.75m – which could eventually reach €175.5m with add-ons – to make six new additions in Paco Alcacer, Andre Gomes, Samuel Umtiti, Lucas Digne, Jasper Cillesen and Denis Suarez.
Yet, some of them were said to be only back-up signings for the Catalans after the likes of Dembele and Gabriel Jesus turned down the option to join Barcelona - amid concerns that their playing time at the Nou Camp was going to be limited.
Fernandez admitted that that Barcelona could face the same problem during the coming transfer window but still believes that the last summer overhaul was a success – even though only Umtiti managed to become a regular for Luis Enrique during the 2016-2017 season.
"The biggest difficulty we face is our own grandeur. A lot of players don't want to come here because they aren't sure they'll get much playing time. But we are very happy with the players that we signed last summer because they have all make big steps forward in their careers," the Barcelona technical secretary said.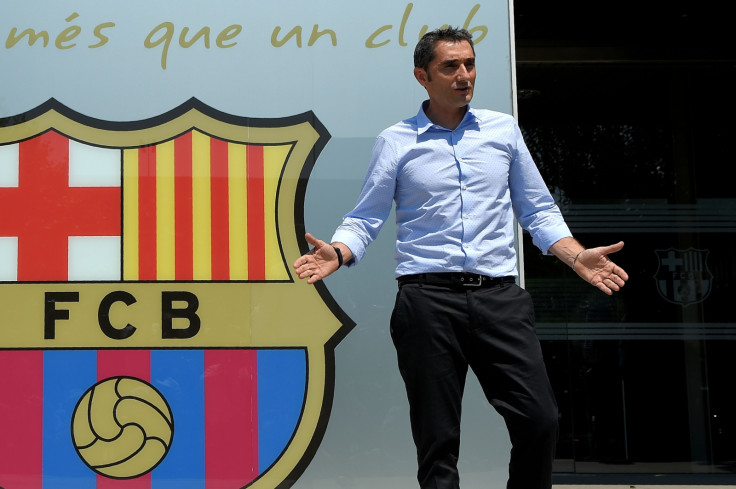 Furthermore, Fernandez believes that the appointment of Valverde will also bring out the best of those players in the new campaign.
"Ernesto is a specialist in turning around bad situations. Barça are a club where there are often difficulties to overcome and we need someone who can deal with that. And we don't just want to win. We want to win by playing well. That's why this club is so special," Fernandez added.
"A lot of people like watching Barça even though they're not really fans. We're very proud of that because it's to do with our style and way of understanding football. And Ernesto fits the bill."