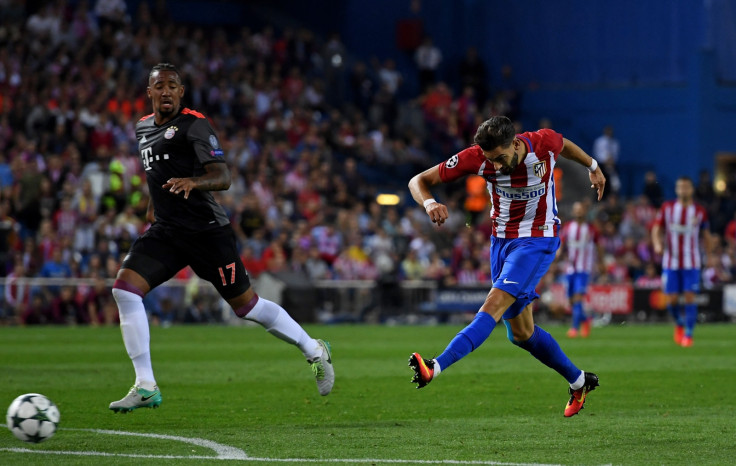 Barcelona technical secretary Robert Fernandez was spotted at the Vicente Calderon on Wednesday night (28 September) during Atletico Madrid's impressive 1-0 victory over Bayern Munich. Sport claims that the reasons behind his trip to the Spanish capital was to spy Yannick Carrasco as the Belgium international was also linked with a move to the Nou Camp during the summer transfer window.
Atletico Madrid signed the pacy Carrasco from Monaco in the summer of 2015 as a prospect for the future. The 23-year-old forward enjoyed an impressive debut campaign at the Vicente Calderon, becoming an importance player for Diego Simeone, both coming from the bench or making the line-up along the likes of Antoine Griezmann when the manager opted for a more attacking formation.
Carrasco scored five goals in 43 appearances for Los Colchoneros, including one coming from the bench in the Champions League final against Real Madrid to send the game into extra-time.
Cadena Ser reported during the summer transfer window that Barcelona considered his signing to serve as a back-up for the MSN trio formed by Lionel Messi, Luis Suarez and Neymar.
The Catalans eventually turned their attention to Paco Alcacer as manager Luis Enrique prioritised the arrival of a proper number nine rather than a winger, as he believed that the likes of Arda Turan, Rafinha Alcantara or Denis Suarez could eventually adapt to the flanks.
Barcelona also signed Andre Gomes, Samuel Umtiti, Lucas Digne, Denis Suarez and Jasper Cillesen as part of a big summer overhaul.
However, Sport claims that they have not completely forgotten about Carrasco as they still don't have a specialist winger in the squad. That would explain that Robert Fernandez was in attendance at the Vicente Calderon on Wednesday night rather than watching the Barcelona 2-1 victory over Borussia Monchengladbach.
Carrasco didn't miss the opportunity to impress as he led Atletico Madrid to the victory by scoring the only goal of the game.
Barcelona value high his versatility to play all up front and his ability to change the games from the bench due to his pace and his impressive one on one. Furthermore, Sport point out that his €40m (£34.6m, $45m) release clause looks a reasonable fee for the current times.
Yet, Barcelona will need to be quick should they really want to sign the Belgium star as the report add that Atletico Madrid wants to ward off the interest of big clubs by offering him a new deal, with an increased buy-out clause.