Barcelona forward Pedro urged to reject Chelsea advances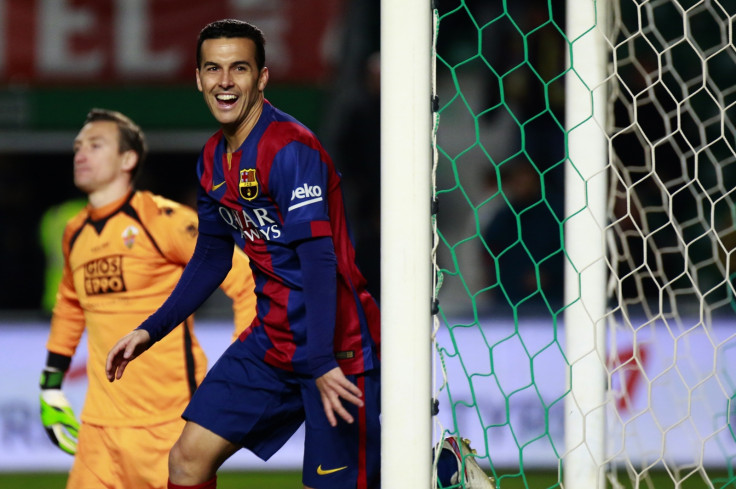 Barcelona forward Pedro has been urged to remain at the Nou Camp despite growing speculation regarding interest from Premier League champions Chelsea.
The Daily Mail believes that manager Jose Mourinho is readying a £22m ($34m) bid for the Spain international, while the player himself admits he has been subject to "important bids" following a reduction in his release clause.
However, manager Luis Enrique wants Pedro to remain with the La Liga and Champions League holders but will respect his decision should he decide to join Chelsea or any other suitor.
"It's very clear, I don't want any player to go and that is the case with Pedro. He has his clause and can leave, but I'd prefer he stayed but if he wants to leave I will respect his decision," he told a press conference according to Sport. "I never cheat the players, I can't promise minutes and never tell 'milongas'."
Pedro made just 15 league starts last term as Lionel Messi, Luis Suarez and Neymar were preferred in the Barcelona attack. The 27-year-old made a stoppage-time appearance in the Champions League final win over Juventus, but had time to set up Neymar's goal.
Despite such a limited impact last term, former defender Eric Abidal says Pedro can't be allowed to leave Barca.
"Players such as Pedro cannot be allowed to go," he told news agency EFE according to Sky Sports. "I know him as a player but also as a person. He is a player who fits into the first team very well. When we won everything in 2009, the most important goals were his.
"The work was of the whole team, but sometimes you have to go into the finer details and Pedro is a player who always gives these details.
"Pedro is still an important part of this squad, but everyone knows that the player always wants to play and before he had more minutes than now."
Chelsea are the club whom Pedro has been continually linked with but the player, upon confirming a decrease in his buy-out clause, has denied he has already staged talks with Mourinho.
"I did not talk to Mourinho," he claimed, according to Goal.com. "That would have been disrespectful to Barcelona. It is true that it was agreed to lower the buy-out clause and it is also true that there are offers."
Though Chelsea have already replaces departed striker Didier Drogba with Radamel Falcao, they were often lacking in numbers in attack amid injuries to Loic Remy and Diego Costa.
Toni Ayala, Pedro's first coach at Raqui San Isidro, believes he would make a difference at Chelsea such is his versatility.
"We all know what 'Mou' loves inside the pitch," he told IBTimes UK. "And I am pretty sure that he loves his versatility. Pedro has played as a centre forward, in the left wing, in the right wing, in the midfield and... even in the left back, during some matches at Barcelona," he said.
"He gives his managers loads of possibilities. The Portuguese coach loves to change his tactics during the same matches, so Pedro is perfect for him. Definitely, his hard work in order to recover possession would make a difference at Chelsea, as it did at Guardiola's Barcelona."
© Copyright IBTimes 2023. All rights reserved.