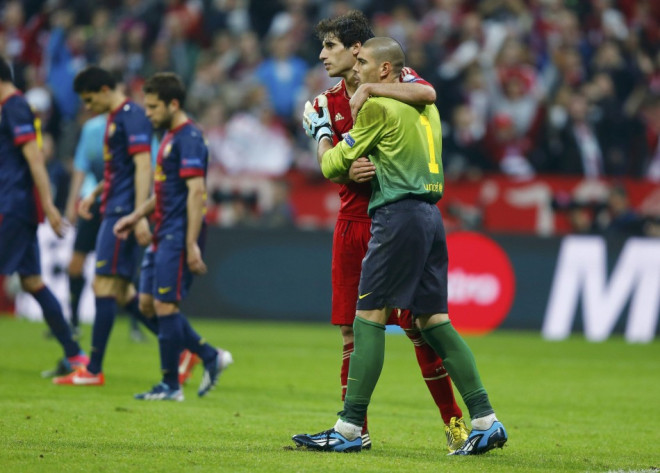 Barcelona have joined Arsenal in the race for Bayern Munich midfielder Javi Martinez, according to the Metro.
The Spaniard was linked with a move to the Emirates after falling out of favour with manager Pep Guardiola and is being scouted by the Gunners as a potential replacement for Mikel Arteta, who is entering his mid-thirties.
Arsene Wenger was reportedly preparing a bid in the range of £20m for the Spaniard, who transferred to Munich from Athletic Bilbao in 2012 for a fee in excess of £30m.
The Catalans are willing to match that fee, which will come as a major blow for the Frenchman, who is looking desperately to strengthen his squad for a title challenge next season.
However, the Spanish club are still keeping an eye on Chelsea defender David Luiz, who like Martinez, can switch between defence and midfield and is a greater threat in the attacking third owing to a dexterous right foot and his heading ability.
This will be a perfect move to Barcelona, who are in the market for a defender to replace Puyol and given his Spanish roots he will likely settle into the Catalan system with consummate ease.
Meanwhile, the Gunners have been boosted by the fact that Laurent Koscielny has signed a new long-term contract with Arsenal. The Frenchman has been their standout defender this season and has developed a brilliant partnership with Per Mertesacker in the centre of the Gunners' defence.
"I am very proud to have reached agreement with the Club on a new contract. I have enjoyed four great years at Arsenal already, and I look forward to continuing to help the team in the years to come," Koscielny told www.arsenal.com.
His extension was taken well by the manager, who said, "Laurent has proven himself to be an outstanding player since joining us in 2010 and has showed his quality once again this season. I am delighted he has decided to commit his future to the Club."