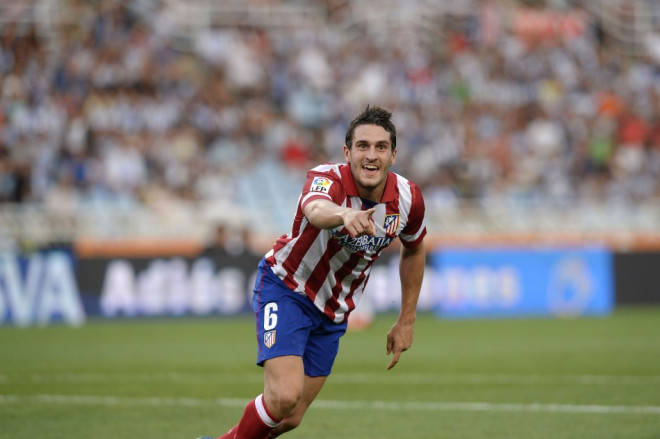 Barcelona midfielder Xavi Hernandez has heaped praise on Manchester United target Koke, saying that the Atletico Madrid playmaker is set to become his successor as the leader of the Spanish national team in the next decade.
The 22-year-old midfielder established himself in the Vicente Calderon first-team in the 2012-2013 season and has since then become a sensation in La Liga, operating both as a playmaker and in a deeper role.
Koke's impressive season has reportedly caught the eye of David Moyes, and it appears Spain coach Vincente Del Bosque is equally impressed; the youngster has forced his way into the national team, and is set to play a pivotal role in the World Cup this summer.
And Xavi, the chief exponent of the 'tiki-taka' style with which Spain and Barcelona have conquered the world, now claims that Koke is going to be his long-term replacement.
"Koke is an extraordinary player. He has it all: talent, physique, he's a footballer for now and in the future. He's set to become a leader for the Spanish national team in the next ten years. I have a special affection for him because we play in the same position and I think he's an extraordinary player," Xavi told Barcelona's official website.
United have been heavily linked with Koke since last summer and the speculation about his future at Old Trafford increased earlier this season when Moyes was spotted at the Vicente Calderon, watching the Spaniard in a Champions League game against Porto.
Moyes is looking to bolster his squad with a midfielder and Koke is reportedly on a short-list of players that also includes Tony Kroos and Paul Pogba.
However, Koke recently scotched the speculation by claiming that he would like to stay with his childhood team forever.
"I may stay here forever. I currently have a long contract with Atletico Madrid and I want to honour it because Atletico is my home. We're forging a strong side, a very nice project and hopefully I will be able to stay here for many years."