Barcelona star Lionel Messi has revealed he would love to play alongside Gareth Bale and Wayne Rooney, potentially urging the Catalan club to shell out well over £100m in the summer.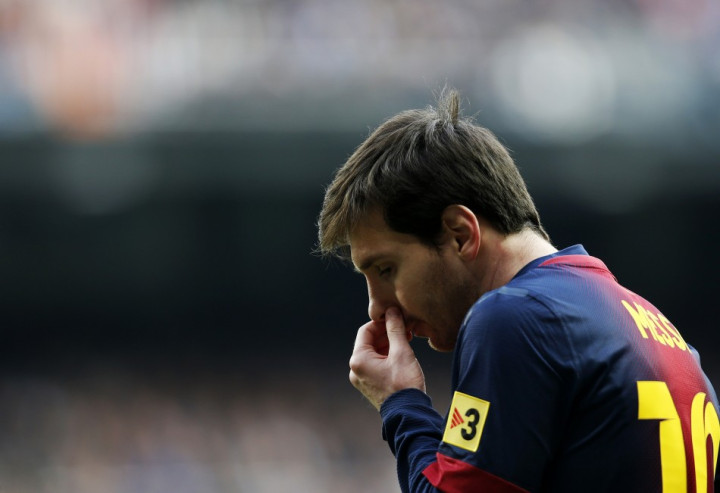 However, 25-year-old Messi, hailed as perhaps the greatest footballer in the history of the game, was quick to acknowledge that neither Tottenham nor Manchester United would willingly release such valuable players.
"Wayne Rooney and Gareth Bale are both great players, they are doing so well for their clubs. And I always want to play with the best players. But I have to be careful with what I say because I can't see them leaving their teams soon," the Argentine international explained.
Bale, 23, and Rooney, 27, have both been linked with moves away from White Hart Lane and Old Trafford. The Welsh international has been linked to Real Madrid, where he will re-join former team mate Luka Modric.
Rooney's future with Sir Alex Ferguson is a little murkier. The ex-Everton man was dropped, allegedly for tactical and fitness reasons, when Madrid visited Old Trafford on Tuesday, for a Champions League fixture. And reports have since emerged the England man is available in the summer.
Barcelona were linked with a move for Bale last summer. However, the Catalans were then reported as losing interest in the Spurs star. Rooney, however, may be a different matter.
The club have resigned themselves to losing ex-Valencia man David Villa in the summer; the all-time leading goal scorer for Spain has been linked with Arsenal. And Rooney could be an excellent option, particularly since he has experience in playing on the flanks or in behind a central striker.
Messi on Barcelona's Season
Meanwhile, the Argentine wizard also spoke on his club's recent slump. The once all-conquering Catalans have gone through a poor patch, with three high-profile defeats in quick succession. Italians AC Milan were the first to upset the side, with a 2-0 win in the first leg of their Champions League knock-out tie. Since then, Barcelona have lost two El Clasicos against Real Madrid on the trot and face Milan in the second leg, next midweek.
"We're all aware of the problems at the moment. We've had some big defeats and we all have to do a bit more to change and improve the situation. We have a very important match next week and we have to focus on that," Messi explained.
"I hope we overturn the 2-0 loss [to Milan]. Why can't we score three when they scored two in Italy? That's what everyone expects from us and this is what we are going to try to do," he concluded.