Barcelona News: Lionel Messi Hints at Camp Nou Exit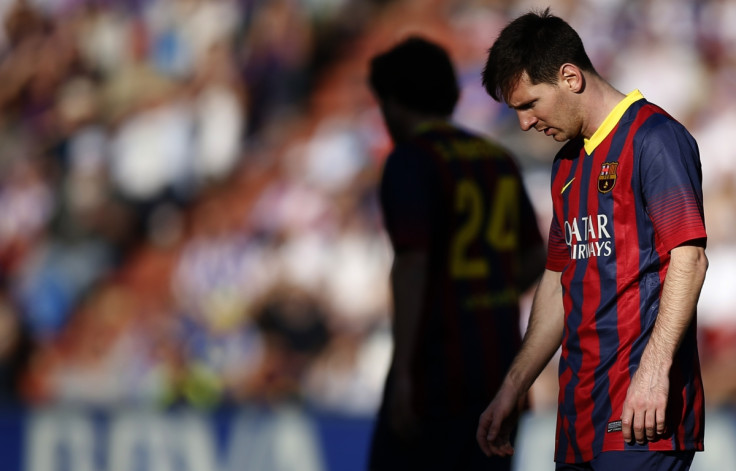 Lionel Messi has left his future at Barcelona up in the air, claiming that even though he is likely to remain at the Nou Camp forever "things in football change and lots of things happen".
The Argentinian star has been under scrutiny in the last year and a half because of what some commentators see as a dip in the high standards he set two seasons ago.
Manchester City were heavily linked with a move for Messi during the last season and, even though the Argentinian renewed his contract at the Catalans to supposedly put an end to such speculation, he has now hinted he may leave his club at some point in the future.
"Today I am living the present. I want to have a great season and win every title at Barcelona. And nothing else. Then we will see. Football takes many turns..." he said during an interview with Argentinian newspaper OLE.
"While I've always said I'd like to stay there forever (at Barcelona), sometimes not everything happens the way you want. In football things change and lots of things happen. It is complicated, especially because of the Barcelona situation."
When asked about the criticism he has has drawn recently for his domestic form in Spain and internationally for Argentina, he said: "People say a lot of things about me.
"I get criticised for so many things that nothing surprises me anymore. It's habitual, normal I'd say, so I try not to listen to it.
""I would like to have played better (during the Word Cup) in the semi-final and the final. But games can go like that sometimes. But had I scored a goal in the final my World Cup could have been said to be 'spectacular' [by my critics]. It would have been nice to play well in every game. Those two weren't my best, but I don't think they were that bad either."
The Argentinian will face his big Ballon D'or rival Cristiano Ronaldo on Tuesday night during a friendly game between Argentina and Portugal at Old Trafford.
Asked about the game and his rivalry with the Real Madrid star, he said: "If the game was competitive it would be important. In that sense it isn't relevant... It is important for the team to keep trying to find the things that Tata [Martino, Argentina coach] is looking for, to keep growing as a team and adapting to the new things he is trying to bring in.
"It's important to win so that we can be more relaxed, but in regards to Cristiano and me it doesn't matter at all... Seriously, it's just another match."
© Copyright IBTimes 2023. All rights reserved.