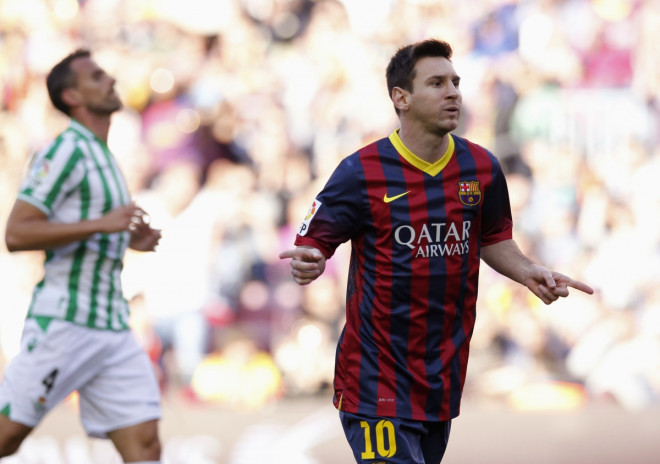 For the first time in his career Lionel Messi has suggested that he may leave Barcelona should the club decide to sell him - even though last week the Catalan side announced an agreement to improve the Argentine's current contract.
Reports in Spain claimed Messi's new wage will go up from €13m to approximately €20m to let him becoming the highest paid footballer in the world, ahead of Cristiano Ronaldo.
And although it looked that Messi's new renewal put an end to the speculation about his future the Barcelona star has reignited the exit rumours, claiming that even though his first choice is to stay at the Camp Nou there is still a possibility to move.
"I've always said I'm very happy to stay at my home. This year hasn't gone as expected and it wasn't one of my best, but I'm convinced that next year will be different, as it will be for the team" Messi said via his Chinese official twitter account.
"It's down to the people at Barcelona to decide what to do with my future, but my choice is to stay, as I still feel the same affection from them, but if that isn't the case I'll look for a solution,"
Barcelona put an end to a campaign without silverware on Saturday, drawing 1-1 against La Liga Champions Atletico Madrid when a win would have given them the title.
Messi has been cited as one of the biggest culprits of Barcelona's disappointing season, even being jeered by his own fans during one game.
And the Argentinian international has apologised to the supporters, admitting his frustration at both the individual and team levels.
"Things didn't turn out as we had expected" Messi said. "It was a tough year personally and collectively. Despite this, we had the chance to achieve an objective in the last game and we were unable to take advantage of it. I can only say sorry to all the Barcelona fans and promise them that next year we'll meet the demands of this club again."
According to reports in Spain earlier this year both Manchester City and Paris Saint Germain were considering meeting Messi's €250m release clause. However, after both clubs were sanctioned by Uefa for breaching Financial Fair Play regulations, it looks unlikely they can afford such a big deal in the near future.