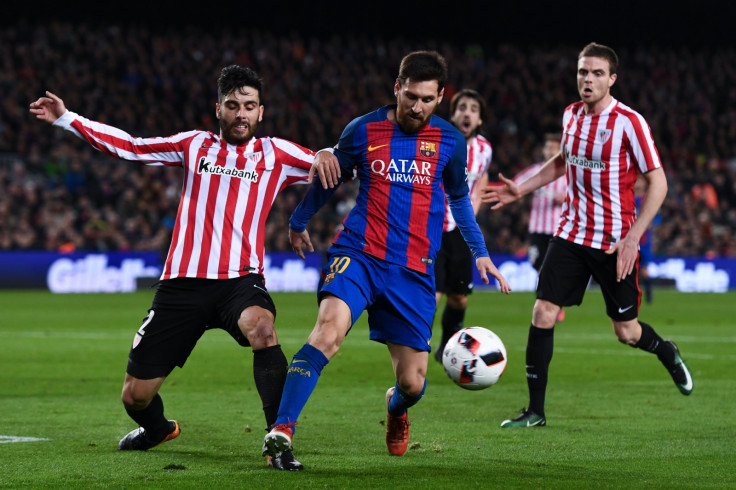 Barcelona have surprisingly sacked Pere Gratacos as head of Sports Institutional Relations with the Spanish Football Federation over controversial comments made on Friday morning (13 January) regarding Lionel Messi's importance to the club.
Gratacos, who coached Messi for two years at La Masia, appeared to relegate Messi's role at Barcelona in the recent 3-1 victory over Athletic Club Bilbao despite the Argentine international scoring a sensational free-kick to send his side to the Copa del Rey quarter finals with a 4-3 aggregate win.
The five-time Ballon D'or winner has already scored 26 goals in 23 appearances this season but Gratacos said that he would not be as good without the help of his teammates.
"We didn't (beat Athletic) only because of Leo. Leo is one of the most important players of the team but he would not be as good without Suarez, Neymar, Iniesta, Pique and the rest of the player will not be as good. But obviously Leo is the best," Gratacos told Spanish reporters after the Copa del Rey quarter-final draw which saw Barcelona pitted against Real Sociedad.
Gratacos also refused to make comments on pending contract negotiations with the striker but his perceived slur quickly sparked the ire of Barcelona fans on social media.
The club have thus decided to part company with him amid suggestions he had annoyed Messi and the rest of the Barcelona players.
"Pere Gratacos has been dismissed as head of Sports Institutional Relations with the Spanish Football Federation for having publicly expressed a personal opinion which does not coincide with the one of the club after the Copa del Rey's quarter-final draw held today in Madrid," the club confirmed through an official statement.
"The decision has been made by Albert Soler, Director of Professional Sports, who will assume his functions directly from now on. Pere Gratacós will continue to be linked to FC Barcelona with La Masía 360 project."
Earlier this week Barcelona chief executive Oscar Grau also found himself in hot water after saying the club could not offer Messi a blank cheque to commit his long-term future to the club, saying that they will need to use "common sense" to reach a good agreement for every party.
"As I always say we have to analyse [Messi's contract renewal] with a cool head," the club CEO said, as quoted by AS. "Barcelona cannot overpass more than 70 % [of the budget] in wages. Our desire and what we want is for the best player in the history to stay. Messi, like [Andres] Iniesta, [Gerard] Pique and all the players raised at the academy should retire at Barcelona. We have time, he has a year-and-a-half left on his contract and we will address [the new deal]. There is a firm wish for Messi to stay but we have to do it with common sense. When you have the best player at home it would be stupid for us to let him go."
Fans soon hit back at Grau while Luis Suarez expressed in public his disagreement over Grau's comments by saying: "It's clear. Messi is the best player in the world and what [they] have to do is renew his contract, not have common sense. He shows that he is the best every day. He's always got a trick up his sleeve."