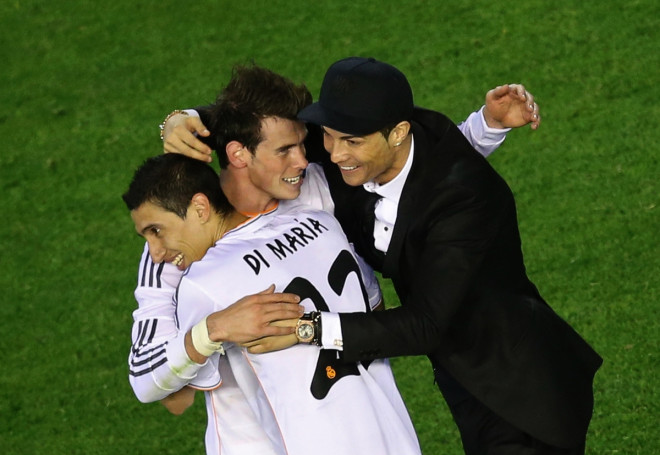 Carlo Ancelotti's decision to keep Angel DI Maria remains vindicated
Real Madrid fans howled in protest when Mesut Ozil parted for Arsenal in the summer as Carlo Ancelotti opted for Angel Di Maria's tenacious work rate over the German's invention. The Argentine's relationship with supporters has been tested at times in a season where his long term future at the Bernabeu has been questioned, but his manager's unyielding faith in him was justified once again last night, just as it was in the titanic meeting between the two sides last month. The 26-year-old capped an exquisite counter attack to open the scoring and was a constant presence in battles to quell Barca's threat.
Real Madrid are alive and kicking without Cristiano Ronaldo
Every Clasico of the past five years has been accompanied by the compelling subplot of Lionel Messi v Cristiano Ronaldo. The two best players in the world facing off in the biggest game in world football. But a muscle injury to the Portuguese captain allowed someone else to enter the fray on Wednesday night. Gareth Bale has been derided this season for passing up opportunities to unequivocally mark his arrival in Spain in season-defining fixtures. Previous El Clasicos have passed him by as have two derbies against Atletico. But with a blistering burst of raw determination and drive, the Welshman added his name to the illustrious list of greats to have decided this magnificent fixture and silenced those who questioned his competence at this level.
Barcelona's misguided summer of 2013 continues to haunt them
If we overlook the legal ramifications of Barcelona's signing of Neymar, the heralded arrival of the Brazilian superstar still left the club with a myriad of problems on the pitch. Securing the 21-year-old's signature was treated as a cup triumph but behind the fanfare the problems that have plagued the club for years again went unaddressed.
The last centre half to sign for the Catalan giants was Dmytro Chygrynskiy in 2009, who played 12 games for the club before returning to Shakhtar Donetsk 12 months later. Prior to him was Martin Caceras, who made just 13 before embarking on a series of loan moves before finally settling at Juventus. Since then Javier Mascherano has been deployed as a very adept centre half but the lack of depth in that position at a club of Barcelona's scope is simply staggering.
Marc Bartra's wonderful header and the subsequent celebrations drenched in emotion were significant moments for the defender, Barcelona and the game. But it will be nothing but a distant memory in a year's time. The one definitive recollection will be of Bale skipping past the youngster when perhaps a more battled hardened centre half may have stopped him – albeit in the most cynical fashion.
The problem with Pinto
With Victor Valdes's well documented exit looming, Barcelona's defensive problems aren't limited to their back four. While Jose Manuel Pinto would have played in last night's game even had their number one goalkeeper been fit, his limitations were once again brutally exposed. He was at fault for Angel Di Maria's opener and lacked conviction all night as he aimlessly batted shots away into potentially dangerous areas. The less said about the quality of his distribution, the better and even in Bale's sublime winner, the manner in which the Barcelona goalkeeper unconvincingly ambled out of goal suggested there was only going to be one result. With a transfer ban looming over the club, the reserve goalkeeper's continued presence between the sticks is worrisome.
Boring Barcelona grinding to a halt
Ultimately, this was a game decided by brute speed and strength. From Di Maria's opener to Bale's dramatic winner, Real Madrid's modus operandi was clear; exploit the alarming lack of pace that runs through the spine of Barcelona. The once glorified tiki-taka has devolved into a largely tactless and pedestrian game of keep ball based on last night's efforts. Without an outlet of Pedro or Alexis Sanchez (both of whom came off the bench) Barcelona struggled to find openings with Cesc Fabregas unable to find that extra burst into space and Neymar unable to find anything at all on the night. With Lionel Messi shackled, there was simply nothing else to offer from Gerado Martino's side.