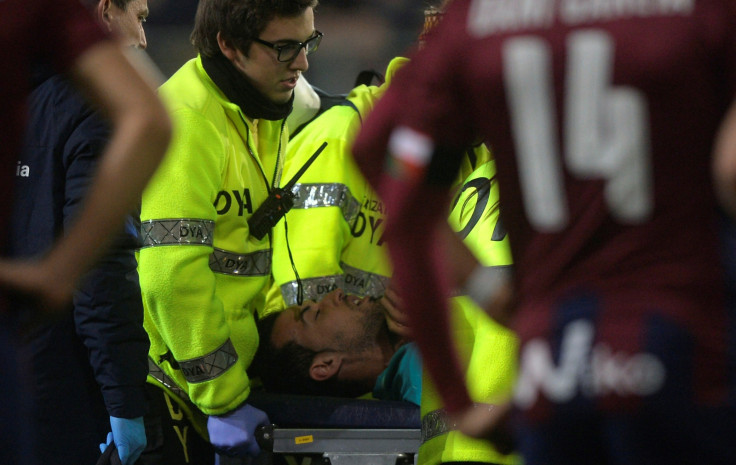 Barcelona midfielder Sergio Busquets is facing a spell on the sidelines after picking up an ankle injury in the club's 4-0 win over Eibar on 22 January.
Busquets, 28, went down in the eighth minute of the contest after a rash tackle from Gonzalo Escalante caught his ankle. He was stretchered off and replaced by Denis Suarez.
Barcelona confirmed on Twitter that Busquets had a sprained external lateral ligament in his right ankle and that the he will have further tests at the training ground on 23 January to assess the severity of the injury.
Manager Luis Enrique said in his post-match interview that the problem was not as serious as initially feared.
"Having seen how Sergio got injured, the best news is it doesn't seem as serious as we expected," he was quoted as saying by ESPN.
"It will be a big problem [to not have him available] but we have solutions and options in place so that we don't have to notice when we're missing players."
Busquets has made 17 appearances in La Liga for Barcelona this season.
The Catalan giants have won their last four matches in all competitions and face Real Sociedad in the second leg of the Copa del Rey quarter-final on 26 January.
Enrique called on his team to continue their good form and build a lengthy winning run to attain their goals for the season.
"I'm referring to results when I say about wanting a change in dynamic," he was reported as saying by ESPN.
"I have always been happy with what my team has done, but [a run of good results] always makes everything flow more smoothly and the players have more confidence.
"We're looking for that run. We're [starting] one [now] and I hope that it will be the start of a good run that allows us to close in on the top positions in La Liga.
"But we're still a long way from what's needed in order to be where we want to be."