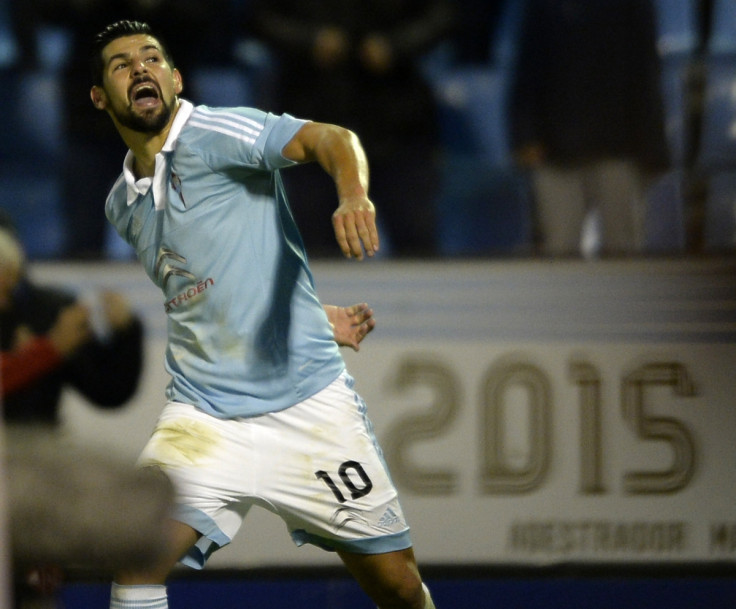 Celta Vigo forward Nolito has admitted that if Barcelona make a new approach to secure his services in the summer and agree to meet his €18m (£14m, $19.7m) release clause it would be all but impossible to turn down a move to the Champions League winners. The Spain international, meanwhile, confirmed that Celta have already turned down a bid from the La Liga giants to secure his services in January while he also received a lucrative offer to move to the Premier League, amid speculations linking him with Arsenal.
Barcelona manager Luis Enrique asked the club board to sign Nolito during the winter break to serve as back-up for the trinity of Lionel Messi, Luis Suarez and Neymar, having lost Pedro Rodriguez to Chelsea during the summer and without signing a replacement due to a Fifa ban. The deal, however, failed because the Catalan giants were unable to afford his €18m clause due to their club statues while Celta refused to negotiate his departure for anything lower.
Reports then claimed that Barcelona offered to pay around €3m up front in January in a loan deal, with an option to make the move permanent in the summer by paying the €15m remaining. Nolito has now confirmed the news during an interview with Radio Marca.
"Celta president told me that Barcelona had called me to tell them that they want me, they offered to pay a part then and the rest in June. But president told me that not even crazy he was going to sell me (for less than my clause). I told him that was ok to me too. If Barcelona want me they have to pay what Celta demand. I am powerless here," Nolito confirmed.
Sport recently reported that the Spanish international will finally make the move to Barcelona in the summer.
Nolito said that he is happy at Celta but admitted he wouldn't say no to a return to the Camp Nou, after he already played under Luis Enrique in the Catalans' second team.
"Honestly if Barcelona pay my clause or reach an agreement with Celta you cannot say no to Barcelona. I would need to go there. What I am going to do? Perhaps I would not play as much as I do at Celta but I'm not worried about that," he said. "But I'm comfortable in Vigo. If something comes will come. Life takes many turns but I'm very happy here."
The Mirror and Mundo Deportivo reported during the January transfer window that Arsene Wenger also tried to secure his services for Arsenal. Nolito refused to confirm the Gunners proposal but admitted that an unnamed club from the Premier League did try to lure him to England with a lucrative proposal.
"I had many offers in December, especially from England but also from China, Russia, Dubai... to earn a lot of money. My agent informed me about that but I said I'm not going anywhere. I am happy at Celta and I want to play Euro with Spain," he said.