Neymar's agent has sent a warning to Barcelona over a potential move to Paris Saint-Germain (PSG), amid delays in negotiations over the Brazilian signing a new deal at the Nou Camp. Wagner Ribeiro has said the former Santos star is happy at the Catalan outfit, but has insisted the Ligue 1 side would have no economic impediments to meeting his €193m (£154.6m, $219m) release – or waiting until the end of his contract in 2018 to acquire his services as a free agent.
The 24-year-old's future at Barcelona has been under scrutiny since last summer, amid the Liga giants' economic issues with offering him a new deal. Reports in Spain in recent times have insisted everything is ironed out and ready to be signed at the end of the current campaign, with Neymar committing his long-term future to the club with a new lucrative deal.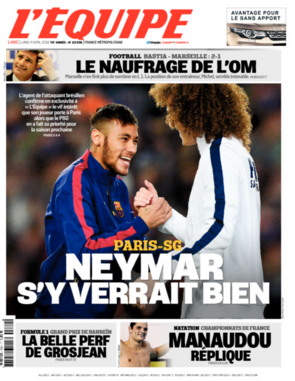 However, speculation has remained with ties to PSG, Manchester United and Real Madrid being discussed, following an impressive campaign where he has netted 27 goals in 39 appearances for Barcelona.
Speaking in court in early February during the ongoing investigation into the player's transfer from Santos in 2013, Neymar's father revealed that United would be happy to pay his release fee, and that the Premier League side tried to lure him to Old Trafford last summer. Neymar himself later confirmed these reports.
L'Equipe has now reported that PSG see the player as their top priority for the upcoming mercato, and the quotes from his agent will give the French billionaires some hope over clinching a deal.
Ribeiro said: "Neymar has a contract with Barcelona until 2018 and he is feeling very well at Barcelona. He is a beloved player there and is part of the best team in the world. It is not easy to impose yourself at such a huge club, but the prospect of living in a city like Paris and playing for a club like PSG is a dream for every player too.
"We will see what happens in two years' time when his contract expires. If PSG showed an interest in signing Neymar, we can always discuss it. A contract can be resolved if the buyout clause is met. Neymar's buyout clause at Barcelona is huge, it's €193m. But I don't think that would be an insurmountable problem for PSG."
Ribeiro, furthermore, added that the charm of Paris could also play a big role in Neymar's decision, as the Brazilian loves the French capital.