Barcelona would have to pay Everton a €8m (£6.8m, $8.5m) fee if they take Ronald Koeman as their manager for the 2017-18 season, according to Mundo Deportivo.
The 53-year-old was a key part of Johan Cruyff's Barcelona dream team during his playing days, scoring the free-kick that led the Catalans to their first Champions League title (then known as the European Cup) back in 1992.
The former Southampton and Valencia manager has consequently been linked with a return to the Nou Camp whenever there has been a vacant position on the La Liga giant's bench.
And this situation has arisen once more after the position of Luis Enrique has come under scrutiny following the humiliating 4-0 defeat to Paris Saint-Germain in the first leg of the Champions League last 16.
The Everton boss is said to be on the shortlist of candidates to replace Luis Enrique, alongside the likes of Sevilla's Jorge Sampaoli, Athletic Bilbao's Ernesto Valverde and Red Bull Salzburg boss Oscar Garcia Junyent.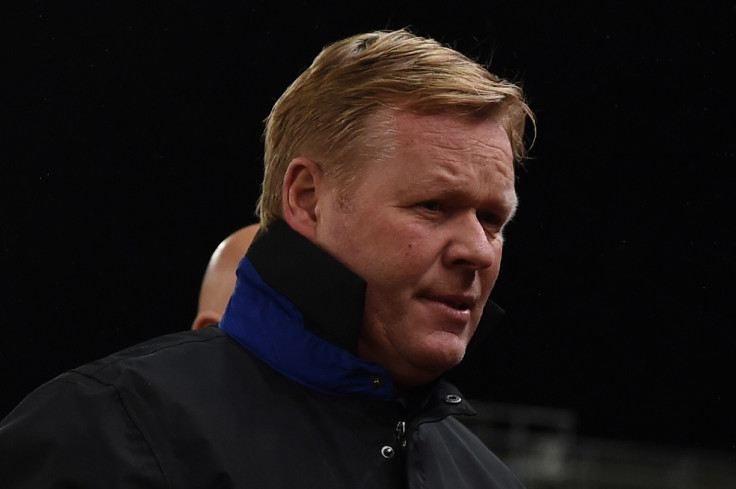 Real Sociedad manager Eusebio Sacristan was also among the linked candidates, but earlier this month he appeared to rule himself out of the job by committing his long-term future to the Basque side until 2019 in a new deal.
And now a move for the Everton boss looks also unlikely as Mundo Deportivo reports Barcelona would need to break the bank if Koeman is chosen, claiming the Toffees inserted a €8m release in his three-year deal when signed Koeman from Southampton last summer.
Mundo Deportivo points out that Barcelona have never paid to sign a manager before – and that Sampaoli, who is widely seen as the fans' preferred choice, would only cost €1.5m.
Koeman has the speculation during an interview with Sky Sports, claiming that he is happy to continue at Everton after agreeing a 3-year-deal with the Toffees last summer.
"It's different now to what it was five or six years ago. When I was coaching in Holland my name was also linked to Barcelona. At the moment I'm not thinking about different clubs because I signed a contract with Everton," the former Southampton boss replied when asked about the possibility of replacing Luis Enrique at the Nou Camp.
"In football it's difficult. Today there's sunshine but tomorrow it could rain. I signed a contract with Everton and it's a project. I'd like to stay and that's what I can tell you today, but nothing else."