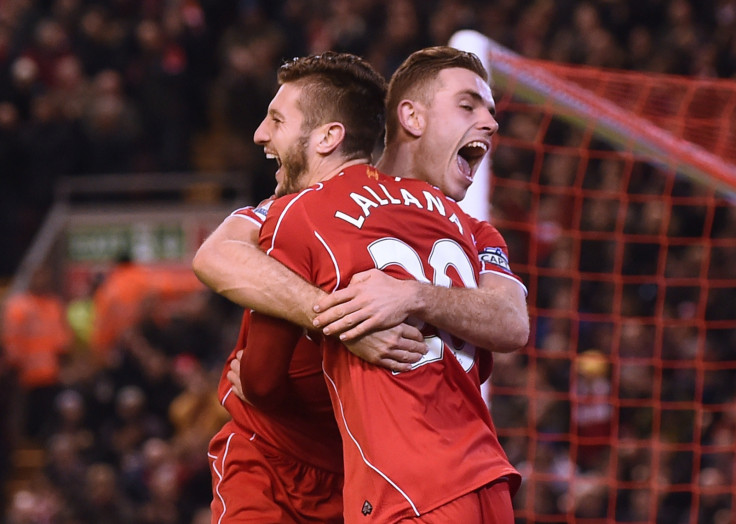 9:52: Liverpool climb into eighth place with a convincing win over Swansea. A dire first half was brought to life after an exhilirating start to the second where the home side rediscovered a little bit of the verve they have been sorely lacking this season.
Jonjo Shelvey is likely to face retrospective action after an ugly elbow on Emre Can, as could Raheem Sterling who was involved in a late incident with Federico Fernández. But all in all, a good's night work from Brendan Rodgers and his side.

FULL TIME

Liverpool 4-1 Swansea City

9:47: Fabianski denies Balotelli his first Premier League goal. The Italian international is found on the edge of the box and stabs an effort towards the bottom right but the former Arsenal 'keeper gets down quickly to make the save.

9:45: Ki slides Routledge into space down the inside right channel but he lashes his effort over the bar.

9:42: Gomis hits the post with a wonderful effort. Inside a crowed area he sweeps the ball into his path and under pressure from two red shirts, digs out a wonderful curling effort that comes back out of the woodwork. Gomis gets another crack through a difficult over head kick but the balls sails out for a goal kick.

9:38: Rodgers responds by taking off Sterling, introducing Mario Balotelli with just over five minutes remaining.

9:36: Sterling and Fernandez come together right under the nose of the linesman and the Liverpool man gives his opponent a slight nudge into the Kop. Fernandez isn;t best pleased and Sterling responds by thrown a hand into the direction of his opponent's face. It would have gone down as the worst excuse of a punch in history had it actually connected, but a very silly thing to do.

9:34: Adam Lallana won't be getting a hat-trick this evening, he's been replaced by Lazar Markovic. The former Southampton has been excellent in this second half, scoring two goals. He even meant one of them.

9:31: Sterling wants in on the act now and tries his luck with a good effort heading towards the near post but Fabianski makes a decent stop.

9:26: Oh Jonjo, it isn't your evening, is it. Jordan Henderson lifts a corner in from the right that his former teammate nods in past his own goalkeeper at the near post.

Goal! Liverpool 4-1 Swansea City (Jonjo Shelvey OG, 68)

9:24: Swansea hanging on here. An excellent exchange between Lallana and Sterling creates the danger inside the box, before the ball eventually ping pongs out to Henderson who can't keep his shot on target.

9:22: Lallana is at the heart of another excellent attacking move, sliding a ball through to Sterling, whose heavy touch takes the ball around Fabianski, but brings it too wide for a shot on target.

9:20: Bony meanwhile has come off, replaced by Bafetimbi Gomis.

9:19: Liverpool have their third! The excellent Coutinho flicks a ball into the path of Lallana who read it perfectly. The same can't be said of Shelvey who cannot keep up with the former Southampton man who skips past two men inside the box before driving the ball low into the bottom right corner.

Goal! Liverpool 3-1 Swansea (Adam Lallana, 62)

9:16: Liverpool carve through Swansea again, with Coutinho's deft ball finding Sterling inside the centre of the box, but the England man dallies and Fernandez robs possession.

9:14: Finally, a bit of calm. For a lack of a better word, that was a mental opening 10 minutes of the half.

9:12: And nearly a couple more goals! Immediately Bony has the ball back to take a shot from the edge of the area but Mignolet parries away. Sigurdsson is on the rebound and forces the corner but moments later it is Liverpool on the attack as Henderson finds Sterling inside the left of the box but hie effort whacks the post!

9:10: One back for Swansea! Sakho and Bony go up to battle for Routledge's cross swung in from the left. Between the two of them, the ball is forced into the path of the unmarked Sigurdsson who slides home.

Goal! Liverpool 2-1 Swansea (Gylfi Sigurdsson)

9:08: Liverpool have a second! Sterling forces the ball back to Fabianski who delays his clearance, allowing Lallana to race back and stick a leg out to charge it down, sending the ball sailing over the Swansea keeper and into the back of the net.

Goal! Liverpool 2-0 Swansea City (Adam Lallana, 52)

9:07: And Routledge's shorts are ripped, forcing him to stick a new pair on in front of the woof-whistling Anfield crowd. Funny stuff, this.

9:05: Skrtel is shown a yellow card for the most cynical challenge you'll see this evening. Routledge, not moving at terrific pace, escapes the challenge from Lucas down the right but Skrtel steps across and hauls him down by his shorts.

9:02: And we are back underway for the second half and Angel Rangel has come onto replace Richards at right back for Swansea.

HALF TIME

Liverpool 1-0 Swansea City (Moreno, 34)

8:45: Swansea win a free kick out on the right that Liverpool fail to deal with. Hernandez heads back across goal with Routledge looking to connect with it but he gets his attempted volley all wrong and Mignolet eventually claims.

8:41: Shelvey tries to force his way into the box but Emre Can holds him up and clips the ball off the Swansea man to win his side the goal kick. Replays show Shelvey appeared to catch his opponent with a frustrated elbow during their duel and the former Liverpool midfielder could find himself in trouble over that later on.

8:37: Coutinho dances his way towards the byline before leaving Richards on his backside with a wonderful turn. He can the chance to pass across the box but looks to try and catch Fabianski out at the near post but instead settles for a corner. Skrtel almost manages to get on the end of it but is judged to have committed the foul.

8:34: Liverpool have their deserved lead. It's a neat move, too, started by Coutinho who broke into space before looking across to his right to Lallana. The former Southampton man slips a measured ball down the inside right channel where Henderson has galloped into space to slide a ball across goal for the waiting Moreno. The Spaniard almost gets it wrong, driving the ball straight into Mignolet but it slips through and into the back of the net.

Goal! Liverpool 1-0 Swansea (Alberto Moreno, 34)

8:32: Bony steals possession about 30 yards out from goal and under pressure and has a crack on goal but it's a woeful hit.

8:30: There has been very little from either Sigurdsson and Bony this evening, Liverpool have kept them quiet with ease. Swansea are really struggling to move the ball from defence to attack and could perhaps do with the Icelandic international dropping slightly deeper to connect.

8:25: Coutinho frees Sterling with a beautiful hooked pass over his shoulder but his teammate isn't quite quick enough to spring away from Williams. Swansea nearly make a make of the clearance but get away with it.

8:22: Sterling, not for the first time this evening, thinks he is fouled trying to jink his way into the opposing box but nothing comes off it. Swansea try to react by passing the ball upfield at pace but lose it far too easily. It is really quiet around Anfield this evening.

8:18: Another half chance for Liverpool as Lucas finds Coutinho on the edge of the box but the Brazilian's curling effort doesn't have the power on it to beat Fabianski.

8:16: Sterling denied! The 19-year-old starts the move, finding Moreno out in space on the left. The Spaniard whips a low ball into the box where Sterling has burst into space but his low effort is straight at Fabianski. Williams reacts first to hack away but Lallana follows it up and lifts a wild effort over the bar.

8:14: Cagey/dull opening to this game. Sterling again threatens to dance his way in, this time from the right, but his one two with Lallana doesn't come off and Fernandez hacks clear.

8:11: Jonjo Shelvey threatens to spring the Liverpool bacline, lifting a ball over the top for Routledge to race onto but Mignolet is off his line to collect.

8:07: Skrtel is forward, head band and all, to meet the resulting corner with a towering header but he can only thump it straight into the arms of Fabianski. Decent chance for the Liverpool man.

8:05: Sterling races into space down the inside left before cutting inside, easily skipping past Fernandez but Williams is across to clear for a corner.

8:03: It's a fairly tepid atmopshere around Anfield and that has been reflected in the opening few minutes of the contest. Henderson looks to bring a bit of life into the contest with a cross field ball but Lallana has crept off side trying to chase it down.

8:00: And Liverpool get us underway for the first half.

7:50: Emre Can again starts in Brendan Rodgers' reshuffled defence this evening but his manager has no doubts over the German Under-21 international's capabilities in the backline.

The beauty of Emre Can is that he can play in a number of positions. He is a player we brought in because he is multi-functional and can play many roles very well.
7:43: After tonight, Liverpool face a Premier League run against Leicester City (H), Sunderland (A) and Aston Villa (A) before their Capital One Cup clashes home and away to Chelsea. While their form this season suggests otherwise, you envisage that fixture list being the perfect chance for Liverpool to close the gap on those sides ahead of him.
7:37: Is this Simon Mignolet's last chance tonight? After two seasons as the club's undisputed number one a series of errors this term saw Brendan Rodgers replace him with Brad Jones earlier this month.
The 32-year-old Australian is unavailable this evening, giving the Liverpool boss little choice to turn to the under-fire Belgian once again. A solid performance from him tonight could see Rodgers reconsider his role in the squad. Another calamity could signal the end of his time on Merseyside, if he harbours desire of playing first team football again.

7:32: Wilfried Bony leads the line for Swansea tonight having already secured the title of 2014's top goal scorer in the Premier League. The Ivorian has struck 20 goals in 37 matches this year, a tally which sees him finish ahead of Sergio Aguero, although the Argentine's tally of 18 in just 23 games isn't too shabby.
7:25: Jonjo Shelvey keeps his spot in Garry Monk's side despite being singled out for being too lazy by his manager.

I have spoken to him a number of times.

We can't afford silly bookings and it cost him being on the pitch against Villa because any slight mistimed tackle could have been a red card.

Jonjo has to wise up because that yellow card came from laziness and he has to be better than that.
LINE UPS

Liverpool: Mignolet, Can, Skrtel, Sakho, Manquillo, Moreno, Lucas, Henderson, Lallana, Coutinho, Sterling.
Swansea: Fabianski, Richards, Fernandez, Williams (C), Taylor, Britton, Shelvey, Dyer, Sigurdsson, Routledge, Bony.
TEAM NEWS - Liverpool: Steven Gerrard drops to the bench this evening while Raheem Sterling looks to be taking a centre forward role again this evening.

TEAM NEWS - Swansea: Garry Monk is without winger Jefferson Montero who is facing a month on the sidelines with a hamstring injury.

7:15: Brendan Rodgers may have dropped Simon Mignolet from his first team squad indefinitely, but the Belgian returns to tonight in place of Brad Jones who picked up an injury against Burnley.

7:05: In August 2011 the Premier League got its first look at Brendan Rodgers the manager. Tonight he will take his spot in the dugout against the team he arrived with, managed by the man he who captained his side during his promotion season in Garry Monk.
Rodgers and Liverpool welcome the Welsh club to Anfield having won last time out against Burnley on Boxing Day, but with yet another unconvincing performance. With the exception of Arsenal, those sides the Reds are looking to gain ground with all dropped points on Sunday, meaning a win tonight will see them move five points off the fifth placed Gunners. But such is the state of Liverpool's goal difference even a win is unlikely to see them replace Swansea in eighth place, all three points tonight will see them move level on points.