Barclays Premier League As it Happened: Liverpool 2-1 West Brom, Aston Villa 0-2 Manchester City, Swansea 2-2 Newcastle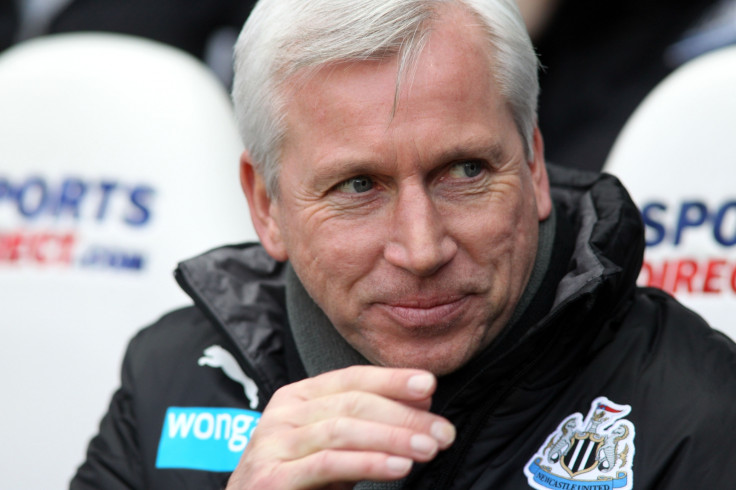 FULL TIME
Aston Villa 0-2 Manchester City
7:20: An inswinging cross from the right meets Lampard at the near post but under pressure from Senderos he can only head wide. That should be it.
7:19: Four minutes of time added on. A third would be harsh on Villa but they are completely drained at this point. Another could still come.
7:16: Aguero finally has his goal! City stroke the ball around in front of the City box, waiting for an opening. They find it as Aguero darts into space and slams a beautifully crisp shot into the corner of the net. Sublime finish.
Goal! Aston Villa 0-2 Manchester City (Sergio Aguero, 87)
7:14: City are firmly in control now and don't look like conceding possession any time soon. Just under five minutes of normal time remaining.
7:12: Silva, who has been outstanding this evening, comes off for City and is replaced by Navas.
7:11: City finally have their breakthrough! Fernando finds the big Ivorian just outside the area, but Villa's defenders just don't have the energy to close him down. He works the ball onto his left foot before curling a precise shot into the corner past Guzan.
Goal! Aston Villa 0-1 Manchester City (Yaya Toure)
7:09: City pass up another chance! Milner plays a ball in from thr right to Silva, whose first time pass toLampard in the box is outstanding. The former Chelsea midfielder however cannot the right contact on the ball however and Guzan saves.
7:06: Cissokho is furious to see City awarded a throw in. His clearance took a clear deflection off Zabaleta. The away side get the ball back and work the ball across the field before swinging it into the box but again Guzan comes out to claim.
7:02: Silva has wandered into acres of space behind Cissokho but Toure's effort to find him is overhit and Guzman comes out to collect.
7:00: Senderos just about lifts a dangerous cross out for a corner. Mangala meets it with a thumping header but it's straight at Guzan who makes another comfortable, but very important save.
6:58: Toure pings a ball to Silva on the edge of the area but the Spaniard instantly controls it on the chest and flicks it towards Aguero. The Argentine darts into the box with Villa defenders back-peddling, but Guzan reads his shot well and collects.
6:56: City have wrestled a bit of control back now and are patiently probing at the Villa defence. Silva, who has been simply outstanding today, flicks Toure's pass out to Milner who cuts it back inside to the Spaniard who skews a shot just wide of the far post.
6:53: There is an excellent end-to-end flow to this game at the minute. Lampard has looked very bright since coming on and almost finds Milner with a precise pass but Delph cuts it out.
6:51: Cissokho clumsily clatters into Silva on the edge of the box and the free kick is awarded. The Spaniard takes it and curls one over the wall but it also curls over the bar.
6:48: Wiemann misses a great chance to test Hart after missing a header after neat work from Hutton and N'Zogbia down the right. That will be his last action of the game with Christian Benteke coming on to make his grand return.
6:43: Fernandinho is left in a heap after going down heavily after trying to win a header. He will have to come off and Frank Lampard will come onto replace him.
6:40: N'Zogbia brilliantly skips past two City defenders cutting in from the right but then ruins it all by ignoring his teammates and running straight into Kompany, who makes the crucial interception.
6:37: And another chance for City as the ball breaks kindly to Silva inside the box. The Spaniard swivels and shoots but his shot takes a deflection, forcing Guzan to make a diving save. Villa clear
6:34: Chances for both sides! James Milner threads an excellent ball through to Aguero who holds his line on the edge of box. His first touch brilliantly brings the ball under control and is free to slot it into the bottom corner but is denied by the post! Villa immediately spring a counter attack that frees Richardson in the box, but his shot is saved by Hart after Zabaleta got back to put pressure on the Villa man.
6:31: And Aston Villa get us back underway for the second half.
HALF TIME
Aston Villa 0-0 Manchester City
6:17: Close again! Another short corner causes havoc in the box. Toure - I think - gets his head to the loose ball but again Villa just about manage to scramble it away. City will win another corner but the referee blows for half time.
6:16: Close from City! Villa fall asleep and from the corner the ball finds Kolarov on the edge of the area, unmarked. He fires on goal but his efforty takes a slight deflection and goes out for another corner.
6:14: Dzeko tentatively creeps inside the left hand side of the box, adjusts his feet and slides a ball back to Milner just inside the area. His first time effort is sweetly struck but whistles just wide of goal. The referee awards the corner, although there didn't seem to be a deflection.
6:11: James Milner chases a hopeful ball down to the byline and cuts an excellent cross back to Dzeko in the box. The big striker pulls the ball out of the air but is quickly swamped by a posse of Villa defenders and is unable to get clean contact on the ball.
6:09: Delph chases Kompany into a corner and intercepts his attempt to clear brilliantly. He slides the ball into Wiemann who has a great chance to get a shot away on the edge of box but under pressure from covering City defenders he snatches at it and completely miss-kicks.
6:07: City have a free kick from about 30 yards out. Kolarov stands over it, looking to bend one into the box, but it flies aimlessly out for a goal kick. Apart from that one excellent ball for Aguero, the Serbian's delivery has been poor today.
6:05: Dzeko spurns a great chance for City. Fernandinho shapes to shoot when a ball falls to him on the edge of the area but instead slides it out to the onrushing Zabeleta. He cuts a neat ball back to Dzeko who takes a touch inside the area before lashing a wild effort over the bar.
6:01: The ball breaks fortunately to Westwood in the middle of the park who immediately pings an excellent through ball up to Wiemann, but Kompany does brilliantly to get across and divert it out of the Villa forward's path.
5:59: Aguero inches away from giving City the lead! Kolarov whips an outstanding cross in from the left - it's so good Aguero only has to get a glance on it, but he gets just too much on it as it flies just wide of the far post.
5:57: N'Zogbia takes the ball down 40 yards out from his own goal and brilliantly spins past Fernandinho. The Brazilian can't keep up with the Villa winger who races up the pitch. He has options left and right of him but opts to hit a vicious effort on goal that flies just wide of Hart's left hand post.
5:56: After escaping a yellow earlier on in the game Kolarov has finally been cautioned after another late challenge, this time on Alan Hutton.
5:54: Silva and Milner combine excellently just outside the box before the latter slides a ball through to Aguero but again Guzan is quickly off his line to collect. Silva could have perhaps released his teammate earlier.
5:52: N'Zogbia lifts an inswinging cross into the box that almost falls for Wiemann but the linemsan has his flag up anyway.
5:51: Cissokho gives the ball away horribly and City spring into attack through Aguero. It's two on two as the Argentine looks for his strike partner Dzeko but Baker reads it brilliantly and slides across to make a crucial interception.
5:48: Yaya Toure holds the ball up on the edge of the box but fails to spot Aguero's late run inside, and instead slides one out wide to no one in particular. Villa goal kick.
5:45: Aguero again drives into the box before sliding the ball back out to Kolarov but his cross his woefully overhit and goes out for a corner.
5:43: City nearly pick their way through again. Yaya Toure receives the ball on the edge of the box, pauses, and then clips a neat ball through but Guzan reads it well and gets to the loose ball before Aguero.
5:41: Kolarov hits the woodwork! Aguero cuts menacingly across the edge of the box from right to left, looking to strike on goal but Baker slides across to block. The ball breaks to the full back just inside the left of the box and the Serbian rattles the near post with a vicious effort.
5:39: It's been a fairly quiet opening 10 minutes to the game. Villa are looking to press the opposition at every opportunity but have struggled to keep hold of it themselves when they have possession.
5:37: Kolarov is lucky to escape a booking after a crunching late challenge on Tom Cleverley.
5:36: Yaya Toure is given a sight of goal and drives a low effort on target but it's well blocked by Cissokho.
5:33: A neat move coming in from the left involving Delph and Richardson provides Weimann with a second to take a shot on from the edge of the area but he's takes too long sorting his feet out and his dispossessed.
5:30: And Man City get us started.
LINE UPS
Aston Villa: Guzan; Hutton, Senderos, Baker, Cissokho; Delph, Westwood, Cleverley, Richardson, N'Zogbia; Agbonlahor
Man City: Hart; Zabaleta, Kolarov, Kompany, Mangala; Milner, Fernandinho, Toure, Silva; Dzeko, Aguero.
TEAM NEWS: Joe Hart returns in goal after his impressive performance mid-week against Roma. Sergio Aguero partners Edin Dzeko up front.
TEAM NEWS: A virus that has affected a number of Villa's first team players over the past weeks has claimed another victim with Gabby Agbonlahor dropping out. He is replaced by Andreas Weimann.
5:15: Our focus now shifts to Villa Park where Manchester City take on Aston Villa. The big news ahead of kick is Christian Benteke, who has missed the club's last 14 league games and Belgium's World Cup campaign with an achilles injury, has been named in the bench.
FULL TIME SCORES
Hull City 2-0 Crystal Palace
Liverpool 2-1 West Brom
Leicester City 2-2 Burnley
Swansea City 2-2 Newcastle United
Sunderland 3-1 Stoke City
4:55: Burnley steal a late point in the sixth minute of injury time! Ross Wallace curls a free kick over the wall and over Kasper Schmeichel.
Goal! Leicester City 2-2 Burnley (Ross Wallace)
FULL TIME
Swansea 2-2 Newcastle United
Sunderland 3-1 Stoke City
Liverpool 2-1 West Brom
4:51: Hull seal three points and Palace are on their way to their first defeat under Neil Warnock. Tom Huddlestone springs the counter, playing Jelavic into acres of space after he skipped ahead of Delaneu, leaving him one on one with Speroni. He takes his time and coolly slots past Speroni.
Goal! Hull City 2-0 Crystal Palace (Nikica Jelavic)
4:45: Papiss won't be saving Pardew's skin with a hat-trick today - he's been taken off with five minutes to play, making way for Ayoze Perez.
4:40: Excellent goal from Sunderland that should see them seal three points. Connor Wickham does brilliantly, carrying the ball upfield for a good 40 yards, powering past defenders before sliding a ball through to Fletcher, although it may have been meant for Jack Rodwell. No matter, the Scot stabs it into the top corner to score his second for the afternoon.
Goal! Sunderland 3-1 Stoke (Steven Fletcher)
4:36: Palace are still showing signs of life. Yannick Bolasie, who has had a very quiet afternoon, connects with a beautifully clean strike that forces Steve Harper to make a decent save.
4:32: Newcastle pull it back again! This time it is fine work from Sammy Ameobi down the wing whose cross lands perfectly at the feet of Cisse to tuck away his second of the afternoon.
Goal! Swansea 2-2 Newcastle (Papiss Cisse)
4:28: Alan Pardew is, quite possibly, playing for his Newcastle United job and has gone for it against Swansea, bringing on Emmanuel Riviere for the tenacious midfielder Jack Colback.
4:26: Searching for an equaliser, Neil Warnock has introduced Chamakh off the bench for Crystal Palace. Good luck with that.
4:23: Brendan Rodgers makes his first changes of the game, introducing Mario Balotelli for Rickie Lambert and Glen Johnson replacing Javi Manquillo.
4:21: Finally, something to report from the KC Stadium. Andrew Robertson does well down the flank but his cross takes a deflection. It turns out to be a rather handy deflection, however, finding Diame who heads past Julian Speroni. I believe that was the first effort on target of the game.
Goal! Hull 1-0 Crystal Palace (Mohamed Diame)
4:19: Liverpool lead again! Good work from Sterling who battles his way into the box before being knocked to the ground. His teammates appeal for a penalty but the teenager is already back on his feet to cut the ball back to Henderson. The England international pings his first time effort into the far corner of the net to settle a few nerves around Anfield.
Goal! Liverpool 2-1 West Brom (Jordan Henderson)
4:18: Lambert works a yard of space for himself but can only fire his shot over the bar.
4:15: Oooh, controversy at Anfield. Berahino races towards goal but is brought down by Dejan Lovren. Definite foul, but it happened a yard outside of the penalty area! The referee however points to the penalty spot and the man who won it steps up to take it and hammers it home to score his fifth of the season.
Goal! Liverpool 1-1 West Brom (Saido Berahino)
PENALTY - West Brom
4:11: West Brom make an awful mess of a free kick and Liverpool immediately launch a counter attack but it breaks down when Coutinho strays into an offside position.
4:06: Swansea have their lead back minutes after the restart. Again, Sigurdsson is at the heart of it, sliding a neat ball through to his teammate following an unconvincing challenge from Sissoko. Routledge keeps his composure brilliantly and dinks the ball over Tim Krul to restore his side's lead.
Goal! Swansea 2-1 Newcastle (Wayne Routledge)
4:04: And we are back underway across the country for the second half.
HALF TIME SCORES
Hull City 0-0 Crystal Palace
Liverpool 1-0 West Brom
Leicester City 2-1 Burnley
Swansea City 1-1 Newcastle United
Sunderland 2-1 Stoke City
3:49: Half time whistles now being blown across the country.
3:47: Liverpool take the lead just before half time! Former Southampton man Adam Lallana combines brilliantly with Jordan Henderson with a neat exchange on the edge of the area to allow the former to burst in and slot the ball past Ben Foster.
Goal! Liverpool 1-0 West Brom (Adam Lallana)
3:46: Pardew IN!!! Great from from Gabriel Obertan who makes his way down the right before lifting a tidy cross in towards the near post were Cisse is positioned to flick it home.
3:45: We aren't short of goals this afternoon. Burnley were level for all of two minutes. Jamie Vardy races down the flank before sliding the ball back across the face of goal. It takes a deflection on thw way and falls kindly to Riyad Mahrez who puts the home side back ahead.
Goal! Swansea 1-1 Newcastle -(Papiss Cisse)
Goal! Leicester 2-1 Burnley Riyad Mahrez
3:41: Liverpool are cranking up the pressure. West Brom again lose possession in the middle of the park and Raheem Sterling leads the charge towards goal. He plays a ball across the box to Lambert but his first touch allows Dawson into make a crucial block and the chance is gone.
3:39: Burnley are level! Kightley reacts the quickest when the ball falls inbetween him and Kasper Schmeichel, stabbing home from close range.
Goal! Leicester City 1-1 Burnley (Michael Kightly)
3:35: West Brom close to taking the lead! Pocognoli does brilliantly to rob possession from Serling and start a counter attack, finding Berahino. The youngster races towards the retreating Liverpool back line before firing on goal, drawing a decent stop out of Mignolet.
3:32: Leicester take the lead in the battle of the two promoted clubs. Riyad Mahrez does brilliantly out on the wing to slip past two men to drag the ball back to Schlupp who is unmarked in the box. He makes no mistake, scoring from 12 yards out
Goal! Leicester City 1-0 Burnley (Geoffrey Schlupp)
3:30: Steven Gerrard is shown a yellow card for hauling down Gamboa. Craig Dawson joins him in the book a few moments later for a poor sliding challenge on Adam Lallana.
3:28: Manquillo is looking lively down the right flank for Liverpool, racing into space to swing a decent cross into the box for Lambert only for Lescott to get there first and clear.
3:24: And Sunderland have their lead back! The home side play a short corner with Jordi Gomez whipping a dangerous ball into the box where Fletcher is poised to thump a header home. A goal and an assist in 25 minutes for the Sunderland striker.
Goal! Sunderland 2-1 Stoke City (Steven Fletcher)
3:21: Rickie Lambert has drawn a decent save out of Ben Foster at Anfield. Martin Skrtel plays a ball down field that finds Lambert after a clever run in behind the Baggies' backline, but Foster is out of his goal quickly to make the block. All Liverpool so far.
3:19: Wilfried Bony heaps more misery onto Newcastle and Alan Pardew by scoring his first goal of the season and it's another assist from Gylfi Sigurdsson who made himself avaliable for the one two before the Ivorian slotted home.
Goal! Swansea 1-0 Newcastle (Wilfried Bony)
3:16: What a response from Stoke! Victor Moses feeds Charlie Adam in the box who does well to work space for the shot, firing through Joh O'Shea's legs and into the back of the net.
Goal! Sunderland 1-1 Stoke City (Charlie Adam)
3:12: Crystal Palace have an early problem with Scott Dann down injured after a clash with Tom Huddlestone. He is unable to continue and will be replaced by Adrian Mariappa
3:08: Steven Gerrard stands over a Liverpool free kick in a similar position to the one he scored from against Everton last week. Can he repeat the trick? Nah. It's pinged straight into the wall and West Brom clear.
3:05: Sunderland score the first goal of the afternoon! Steven Fletcher swings a cross into box where Connor Wickham has lost his man to nod home from close range.
Goal! Sunderland 1-0 Stoke City (Connor Wickham)
3:00: And we are off and underway in our five afternoon games.
2:45: There are five afternoon fixtures to look forward to this afternoon with Aston Villa hosting the champions Manchester City in the evening kick off (5:30pm BST)
Hull City v Crystal Palace
Liverpool v West Brom
Leicester City v Burnley
Swansea City v Newcastle United
Sunderland v Stoke City
TEAM NEWS: Neil Warnock opts for the same Crystal Palace XI that beat Leicester City last week with Frazier Campbell selected to lead the line ahead of the fit again Marouane Chamakh.
With Allan McGregor unavailable, 39-year-old Steve Harper comes into the Hull City side to make his first appearance of the season.
TEAM NEWS: Alan Pardew hands Gabriel Obertan his first Premier League start in almost 18 months. Papiss Cisse comes also comes into the starting XI but Remy Cabella is dropped.
Just the two changes from Garry Monk for Swansea with Jazz Richards coming in for the suspended Angel Rangel while Wilfried Bony is back in to lead the attack.
TEAM NEWS: Brendan Rodgers has dropped Mario Balotelli this afternoon. Rickie Lambert comes in for the Italian to lead the line with Daniel Sturridge, who signed a new long term deal at Anfield on Friday, still absent through injury.
With Andre Wisdom not able to play against his parent club, Costa Rican Christian Gamboa comes into the West Brom defence for his Premier League debut.
2:30: Having taken just one point from their last three Premier League games, Brendan Rodgers and Liverpool find themselves in a worrying slump. The performances have been a far cry from the scintillating form that saw the Reds come within two points of the Premier League title last season. The manager admits that, not for the first time during his tenure at Anfield, the club are stuck in a transitional period. Three points against West Brom might not completely remedy those concerns, but it would provide a timely lift for the club who find themselves sat 14 in the table.
Alan Pardew lived to fight another day as Newcastle United manager despite Monday's 1-0 defeat to Stoke City. Is today's meeting with Swansea City his last chance to save his job?
We are half an hour away from our afternoon kick offs. Stick with us for all your team news.
© Copyright IBTimes 2023. All rights reserved.