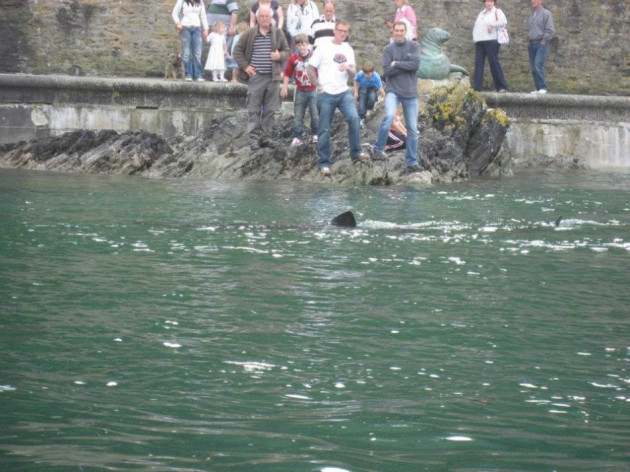 A basking shark has been spotted in a British harbour for what is believed to be the first time in 20 years, as it swam into Looe harbour, off the coast of Cornwall.
The shark, estimated to be between eight and 10ft long, spent an hour swimming around the harbour before making its way back to sea.
Lifeboat operations manager Dave Haines, 57, spotted the shark and took some pictures from his boat.
"It's really unusual to see them there in the harbour. He went right in close to the people, I'd say he was around eight feet away," Haines said.
"I saw one there 20 years ago, and we think that was the last sighting, so I couldn't believe it when I saw this one.
"It was great to see him, it's not the sort of thing you see all the time - I hope I don't have to wait another 20 years to see another one."
A crowd of stunned onlookers watched the shark swim around the harbour from the town's quayside and Banjo Pier.
It is thought it became lost as it swam into the harbour.
Richard Peirce, chairman of the Shark Trust, said: "It is very odd because Looe has quite a narrow harbour mouth.
"Generally speaking, if a basking shark ends up in a harbour, it's a mistake. It shouldn't be there and we hope they get out all right."
Basking sharks are often spotted off the country's coast, especially in the the summer because of a seasonal plankton bloom.
The basking shark is the second largest fish in the world after the whale shark and can grow up to 33ft in length and weigh up to seven tonnes.