Warner Bros has released the first look at Henry Cavill as Superman in forthcoming superhero epic Batman v Superman: Dawn of Justice.
Lashed by rain, the picture appears to show Supes in Gotham City, the home and hunting ground of Batman – who will be played by Ben Affleck.
The picture has been released to coincide with a USA Today interview with director Zack Snyder in which he explains the decision to include Batman in his Man of Steel follow-up and the reasoning for the film's new title.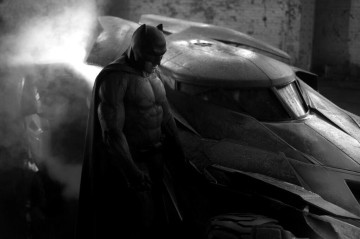 "I was in no rush to put Batman in the movie," Snyder explained, "but on the other hand it seemed organic the way our story was unfolding to start to feather him in. It's cooler to see a crusty old Batman beating the snot out of guys.
On Cavill playing Superman for the second time, Snyder said: "We've both created this guy and we can push him around a little bit. The more time I spend with Henry, the more he's Superman to me."
The film was tentatively called Batman vs Superman for almost a year until Warner officially revealed the title to be Batman v Superman: Dawn of Justice. Snyder explains that the decision to opt for 'v' instead of 'vs' is "to keep it from being a straight 'versus' movie, even in the most subtle way."
Many have also suggested that the use of 'v' suggests a legal dispute between Bruce Wayne and Superman relating to the carnage caused to Metropolis in Man of Steel's final battle between a fresh-faced Superman and Michael Shannon's General Zod.
The film will go up against Marvel Studios' Captain America 3 in 2016, but Snyder is confident that anticipation will be highest for his film. "You can talk all you want about other superhero movies, but its Batman and Superman, let's just be honest. I don't know how you get bigger than that."
Batman v Superman: Dawn of Justice will be released on 29 April 2016.